[back] NGC 7317/18a,b/19/20 (Stephan's Quintet) in Pegasus [NED]
Higher resolved image / höher aufgelöstes Bild (2400 x1753)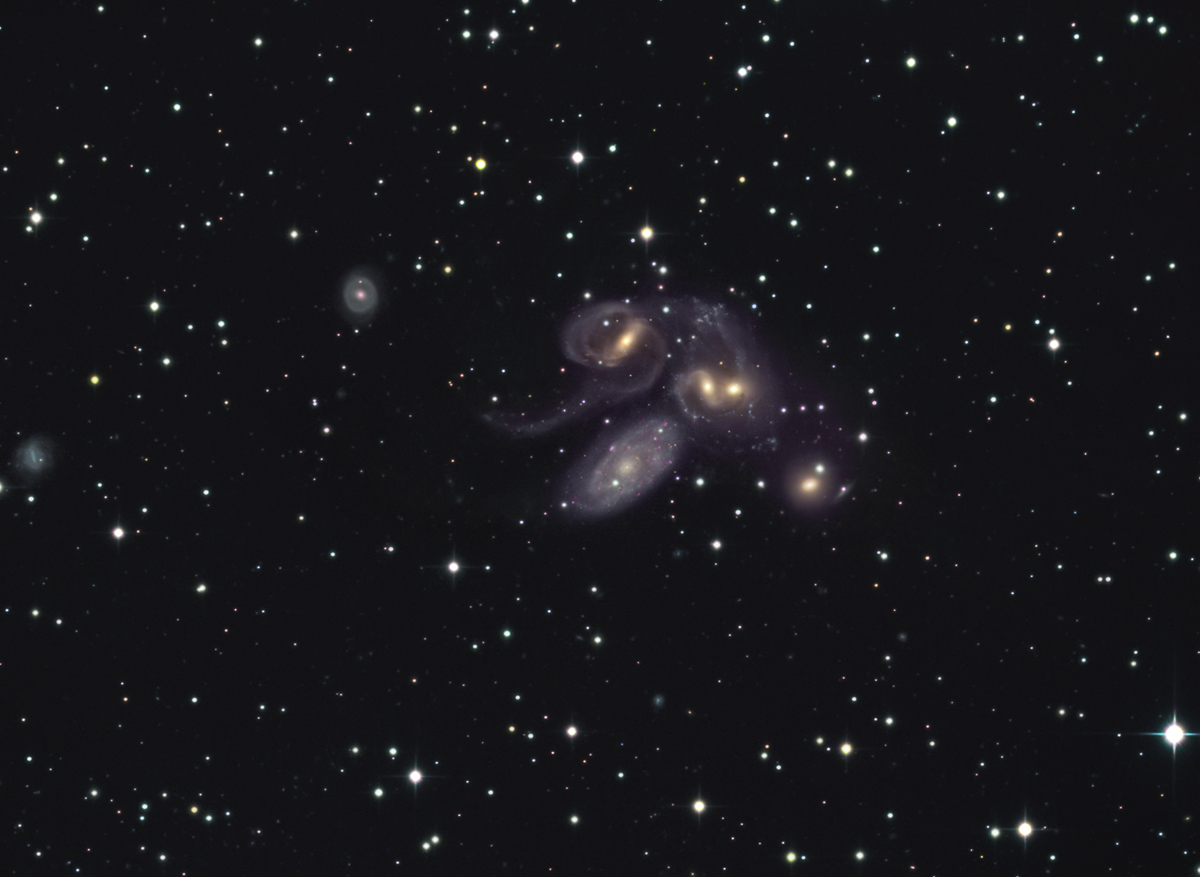 | | | | |
| --- | --- | --- | --- |
| (c) 2006 All astro photo images are copyrighted. They may not be used or reproduced without explicit written permission from the authors. | | | |
About this Image / Über dieses Bild
CCD:
SBIG STL-11000M
Image Type, Orientation:
L-RGB Composite, North is at 12:15h
Exposure time:
L:18x600 sec. 1x1 bin, R,B:2x600 sec. G:3x600 sec. 2x2
Exposure date:
August 23rd, 2006
Location:
Skinakas Observatory at Crete, Greece
Filter:
SBIG 2" LRGB filter set for STL
Instrument:
Ganymed 60cm-Hypergraph in secondary focus (f=4938.3 mm)
Seeing (FWHM):
1.2"
Photographer:
Josef Pöpsel, Stefan Binnewies, Rainer Sparenberg

Remarks:

For more information of Stephan's Quintet see Wikipedia entry. Look also Seyfert's Sextet.

An image of Stephan's Quintet together with NGC 7331 and others done in primary focus can be fond here.

CCDSharp and DDP were used.

Bemerkungen:

Für weiterer Infos zu Stephans Quintett siehe z.B. Wikipedia Eintrag. Siehe auch Seyferts Sextett.

Ein Bild von Stephans Quintett zusammen mit NGC 7331 und anderen aufgenommen im Primärfokus befindet sich hier.

CCDSharp und DDP wurden benutzt.
Back to the Galaxies' Overview / Zurück zur Galaxien-Übersichtsseite