[back] NGC 7331, Stephan's Quintet (Hickson 92) and others in Pegasus [NED]
Higher resolved image / höher aufgelöstes Bild (2200 x 1834 pixel)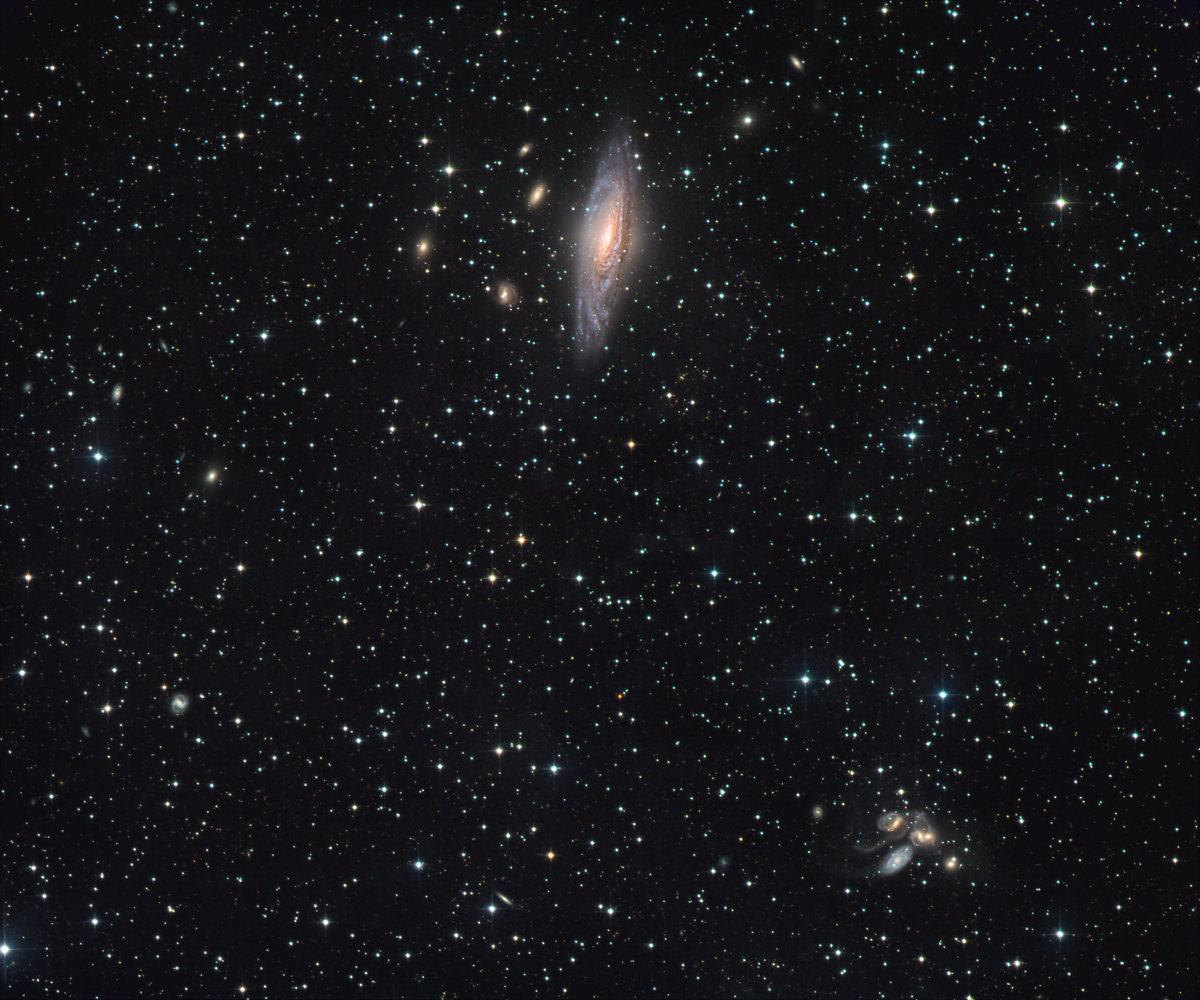 | | | | |
| --- | --- | --- | --- |
| NGC 7331: Type Sbc, distance ~ 13Mpc/45MLy. | | | |
(c) 2007 All astro photo images are copyrighted. They may not be used or reproduced without explicit written permission from the authors.
About this Image / Über dieses Bild
| | |
| --- | --- |
| CCD: | SBIG STL-11000M |
| Image Type, Orientation: | LRGB Composite. North is at 11:45h. |
| Exposure time: | L: 15x600s, R,G, B: 3x600s, all 1x1 bin |
| Exposure date: | August 12th and 13th, 2007. |
| Location: | Skinakas Observatory at Crete, Greece, remote-controlled from Bad Arolsen/Germany |
| Filter: | SBIG 2" LRGB filter set for STL |
| Instrument: | Ganymed 60cm-Hypergraph in primary focus (f=1800 mm) |
| Photographer: | Josef Pöpsel, Stefan Binnewies |
Remarks:

A secondary focus image of NGC 7331 can be found here, one of Stephan's Quintet can be found here.

In addition to NGC 7331 and Stephan's Quintet a lot of Galactic Cirrus makes the above image interesting. Below an inverted b&w and a contrast enhanced color version of the same image data as above can be seen, which make the galacitc cirrus more obvious.

DDP was used.

Bemerkungen:

Eine Sekundärfokusaufnahme von NGC 7331 befindet sich hier, von Stephans Quintett hier.

Zusätzlich zu NGC 7331 und Stephans Quintett ist auf dem Bild eine Menge galaktischer Cirrus zu sehen. Unten befindet sich eine invertierte s/w-Version und eine kontrastgesteigerte Farbversion der selben Bilddaten wie oben, die den galaktischen Cirrus offensichtlicher machen.

DDP wurde benutzt.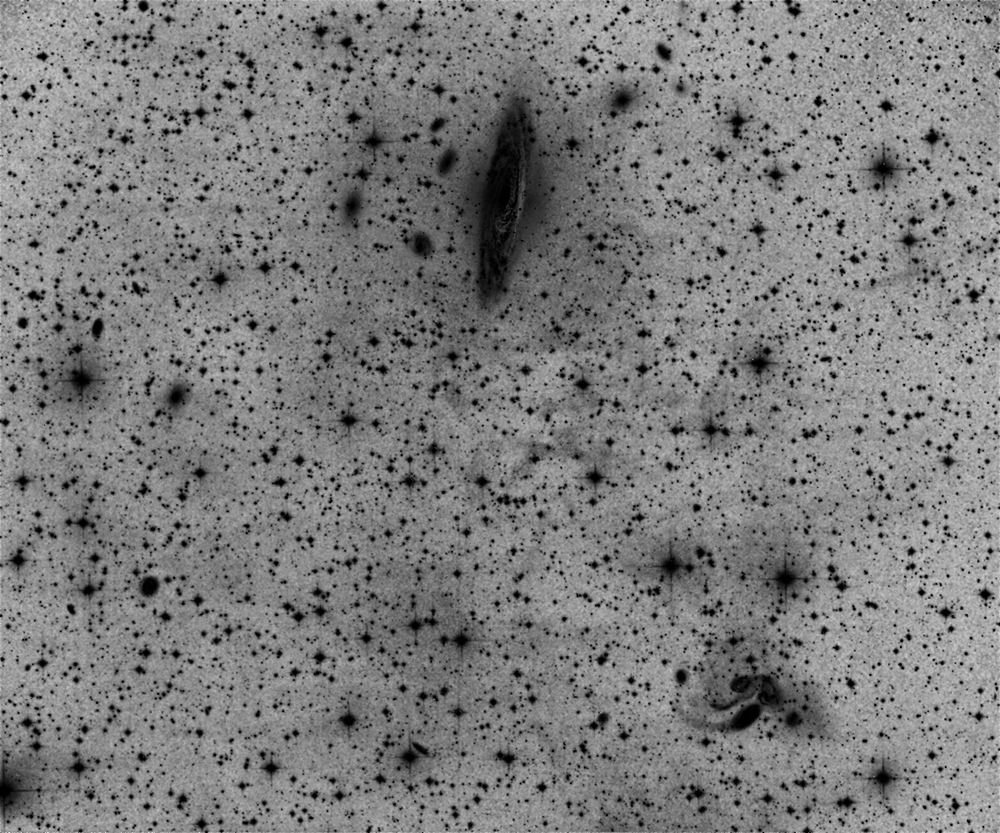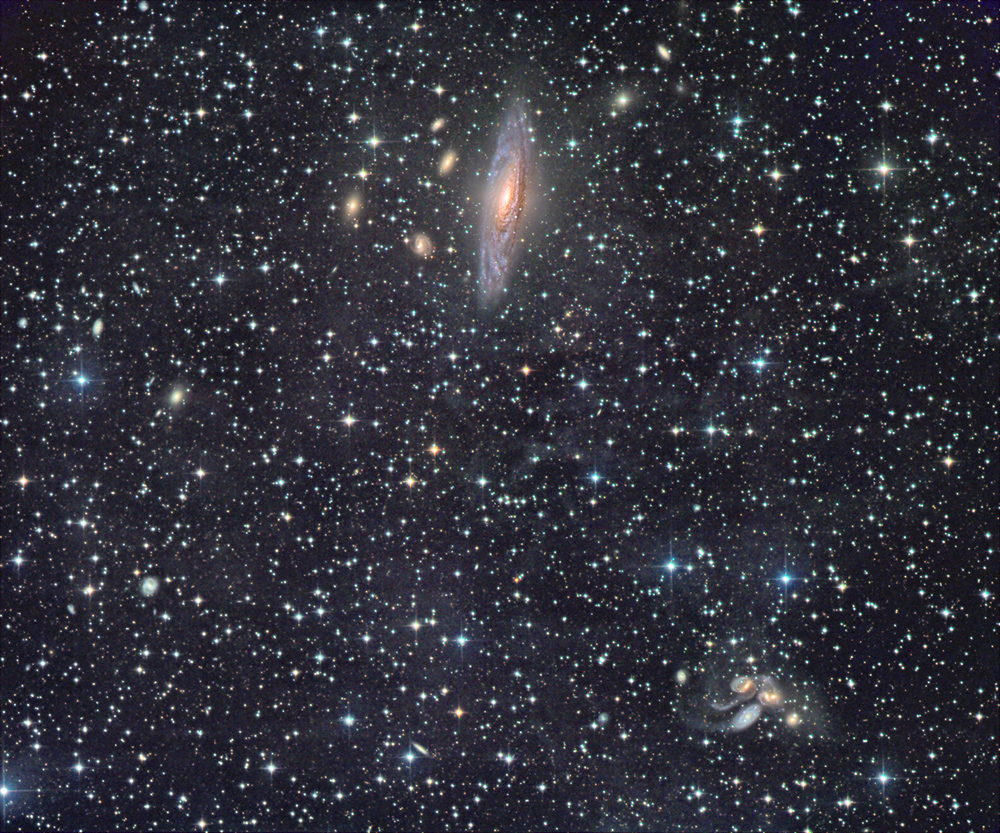 Inverted b&w and a contrast enhanced color version of the same image data as above can be seen, which make the galactic cirrus more obvious /
Invertierte s/w-Version und eine kontrastgesteigerte Farbversion der selben Bilddaten wie oben, die den galaktischen Cirrus offensichtlicher machen
Back to the Galaxies' Overview / Zurück zur Galaxien-Übersichtsseite