[back] Barnard 160/162 and LDN 1087 in Cepheus
Higher resolved image / höher aufgelöstes Bild (3605 x 2462 Pixel)
Starless version / von Sternen befreite Version (1600 x 1074 Pixel)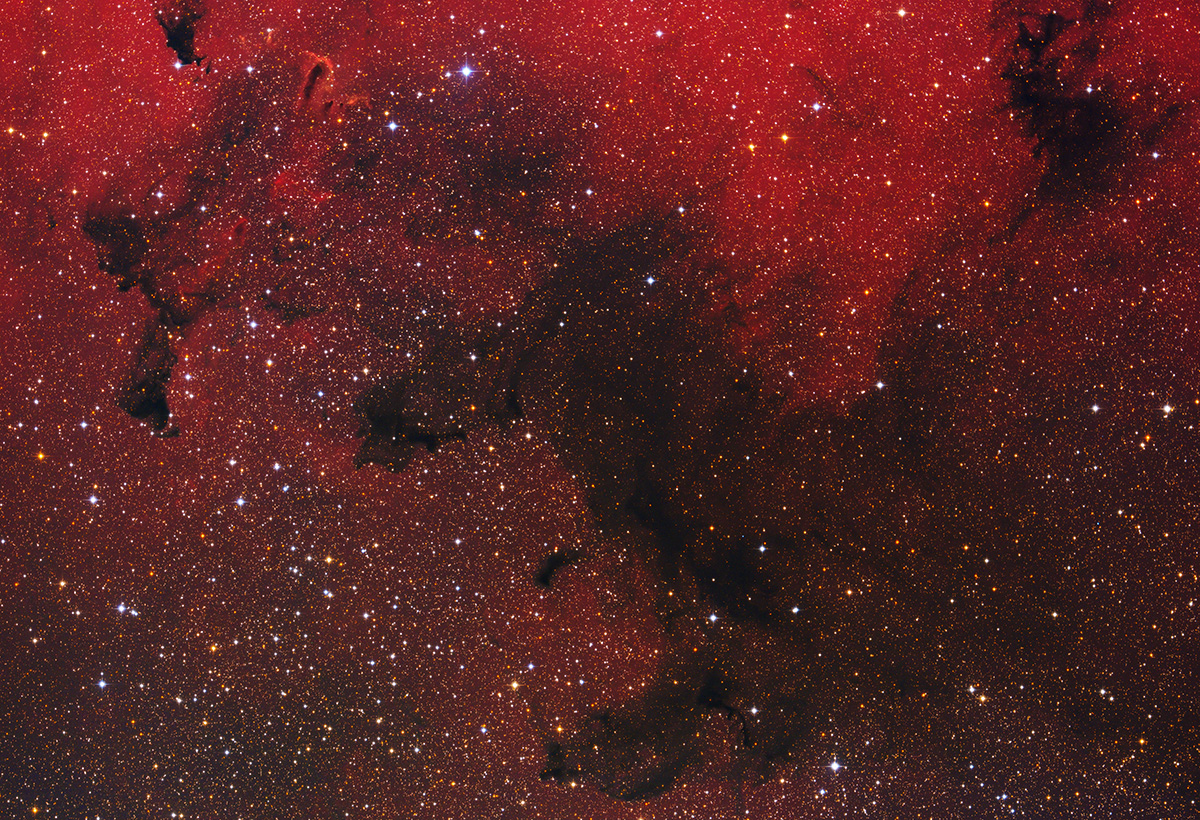 | | | | |
| --- | --- | --- | --- |
| (c) 2021 All astro photo images are copyrighted. They may not be used or reproduced without explicit written permission from the authors. | | | |
About this Image / Über dieses Bild
| | |
| --- | --- |
| CCD: | ZWO ASI094MC Pro |
| Image Type, Orientation: | RGB-HaOIII-Composite, North is at 12:00 h |
| Exposure time: | R,G,B: 30x300 sec., HaOIII: 44x300 sec., all 1x1 bin (6:10h total) |
| Exposure date: | September 1st,2nd and 5th 2021 |
| Location: | Capella Observatory at Eifel, Germany, remote-controlled from Bad Arolsen/Germany |
| Filter: | Internal RGB-Filter and STC Astro Duo-Narrowband Filter |
| Instrument: | Ganymed 60cm-Hypergraph in primary focus (f=1815.9 mm) |
| Photographer: | Josef Pöpsel, Frank Sackenheim, Stefan Binnewies |
Remarks:

The dark nebulae Barnard 160 (center), Barnard 162 (top left) and LDN 1087 (top right) are located just below the well-known Elephant's Trunk Nebula at vdB 142. All these nebulae belong to IC 1396 (see here, here and here). The starless version was created with StarXTerminator. It only shows the HaOIII exposure. Since the dust in these dark nebulae essentially reflects the (weak) ambient light, its spectrum is continuous and therefore they almost appear black in the Ha images.
An image of Barnard 161, which is located just above vdB 142 can be found here.

Bemerkungen:

Die Dunkelnebel Barnard 160 (Bildmitte), Barnard 162 (oben links) und LDN 1087 (oben rechts) befinden sich knapp unterhalb des bekannten Elefantenrüsselnebels bei vdB 142. All diese Nebel wiederum gehören zu IC 1396 (siehe hier, hier und hier). Die sternenlose Version wurde mit StarXTerminator erstellt. Sie zeigt nur die HaOIII-Belichtung. Da der Staub in diesen Dunkelnebeln im Wesentlichen das (schwache) Umgebungslicht reflektiert, ist dessen Spektrum kontinuierlich und daher in den Ha-Bildern nahezu schwarz.
Ein Bild von Barnard 161, der sich knapp oberhalb von vdB 142 befindet, ist hier zu finden.
Back to the Diffuse Nebulae Overview / Zurück zur Diffuse-Nebel-Übersichtsseite