[back] vdB 142 in IC 1396 (Elephant's Trunk Nebula) in Cepheus [NED]
Higher resolved image / höher aufgelöstes Bild (2000 x1329 Pixel)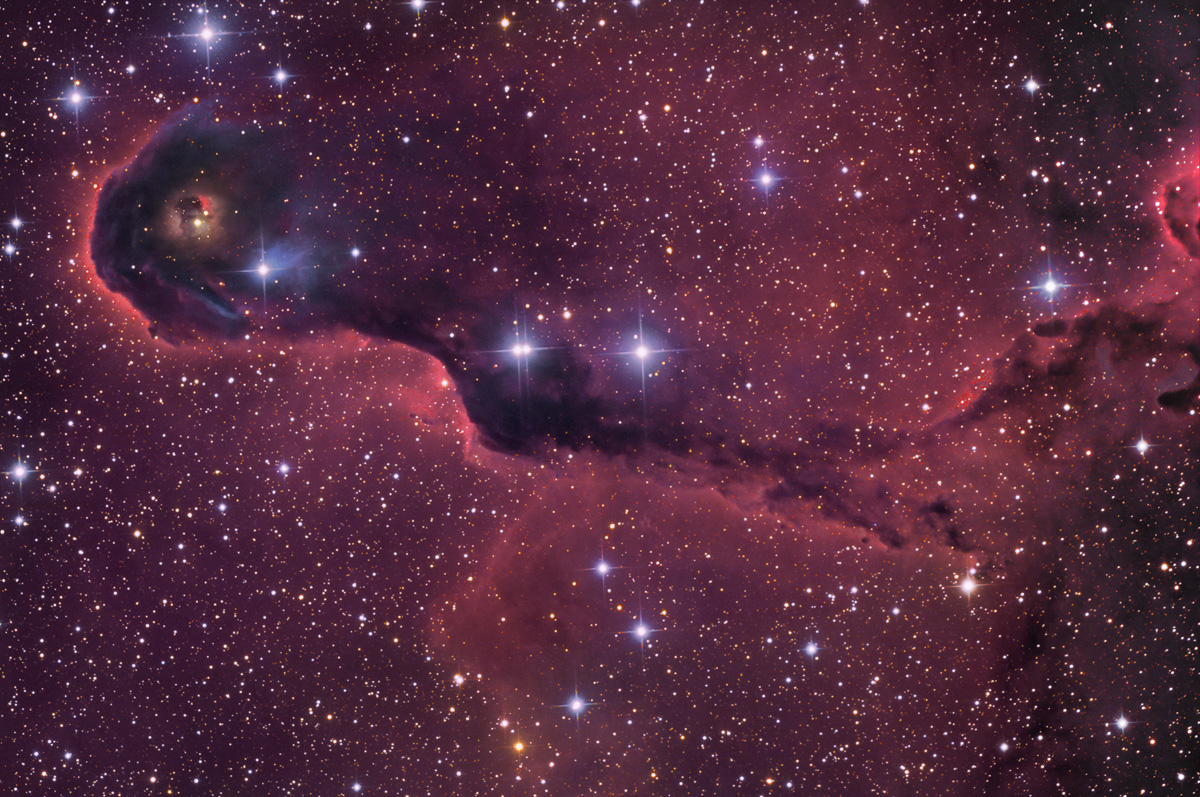 | | | | |
| --- | --- | --- | --- |
| (c) 2006 All astro photo images are copyrighted. They may not be used or reproduced without explicit written permission from the authors. | | | |
About this Image / Über dieses Bild
CCD:
SBIG STL-11000M
Image Type, Orientation:
(L+Ha)-(R+Ha)GB Composite, North is at 11:45h
Exposure time:
L: 5x600 sec. 1x1 bin, Ha: 8x600 sec. 1x1 bin, R,G,B :4x600 sec. 2x2 bin
Exposure date:
August 23rd, 2006, starting at 20:57 UT
Location:
Skinakas Observatory at Crete, Greece
Filter:
SBIG 2" LRGB filter set for STL + Astronomik
13nm Ha filter
Instrument:
Ganymed 60cm-Hypergraph in secondary focus (f=4938.3 mm)
Seeing (FWHM):
1" (CCDInspector results: 0.99"..1.03" for L_Frames)
Photographer:
Stefan Binnewies, Josef Pöpsel, Rainer Sparenberg

Remarks:

vdB 142 is one of our first images shot after moving to Skinakas (Crete, Greece). The Elephant Trunk Nebula is located within the large IC1396 emission nebula complex.

A wide field image of the area around vdB 142, which was photographed in parallel with a piggybacked Takahashi FSQ and a Canon 20D can be found here.

CCDSharp and DDP were used.

Bemerkungen:

vdB 142 ist eines der ersten Bilder, die wir nach dem Umzug nach Skinakas (Kreta, Griechenland) gemacht haben. Der "Elefantenrüssel-Nebel" befindet sich innerhalb von IC1396, einem großen Emissions-Nebel-Komplex.

Eine Wide-Filed-Aufnahme der Gegend um vdB 142, die parallel zu diesem Bild mit einem huckepack montiertem Takahashi FSQ und einer Canon 20D entstand, befindet sich hier.

CCDSharp und DDP wurden benutzt.
Back to the Diffuse Nebulae Overview / Zurück zur Diffuse-Nebel-Übersichtsseite