[back] NGC 6621/22 (Arp 81) in Draco [NED]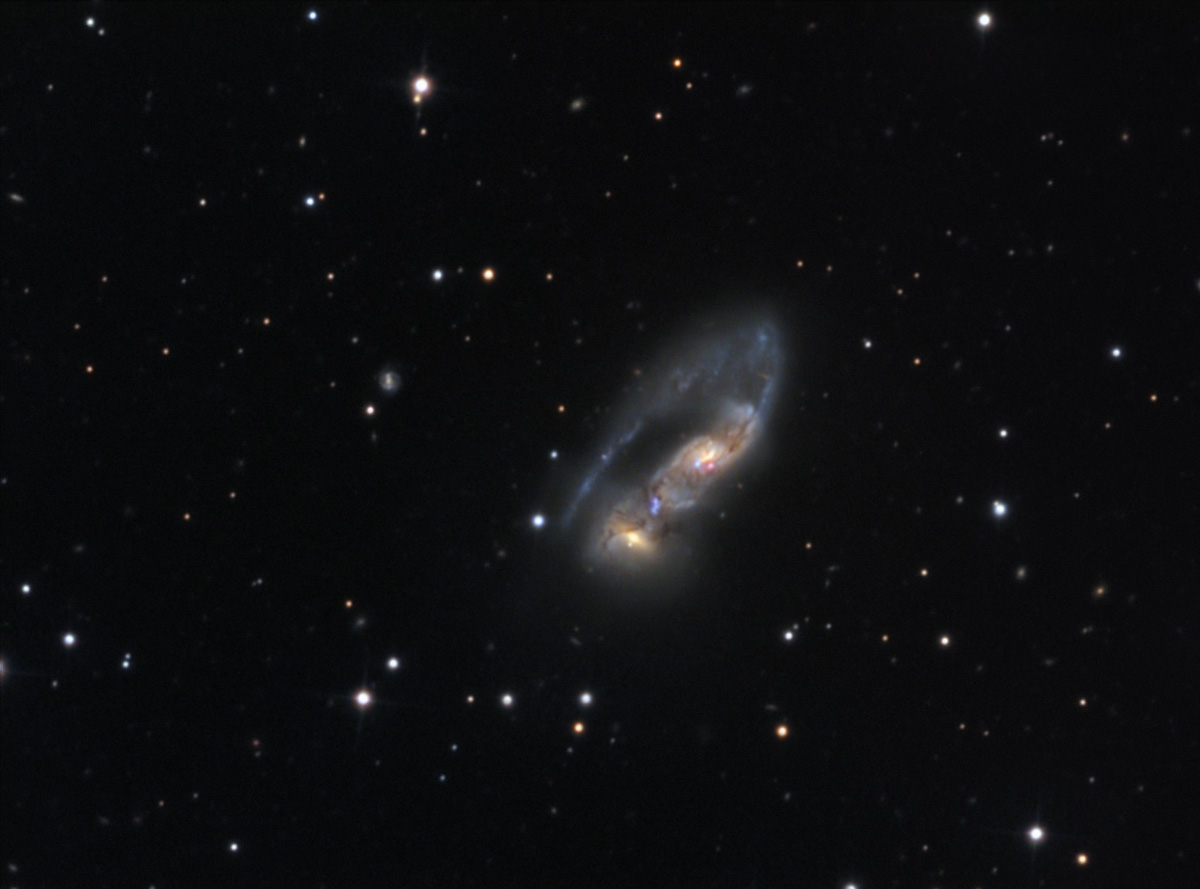 | | | | |
| --- | --- | --- | --- |
| Type Sb/P, distance ~ 87Mpc/280MLy. | | | |
(c) 2007 All astro photo images are copyrighted. They may not be used or reproduced without explicit written permission from the authors.
About this Image / Über dieses Bild
CCD:
SBIG STL-11000M
Image Type, Orientation:
L-RGB Composite, North is at 12:30h
Exposure time:
L: 7x600 sec. 1x1 bin, R,G,B :2x600 sec. 2x2 bin
Exposure date:
May 16th, 2007
Location:
Skinakas Observatory at Crete, Greece
Filter:
SBIG 2" LRGB filter set for STL
Instrument:
Ganymed 60cm-Hypergraph in secondary focus (f=4938.3 mm)
Seeing (FWHM):
1.22"-1.58"
Photographer:
Stefan Binnewies, Josef Pöpsel, Rainer Sparenberg
Remarks:

In their famous N-body calculation of 1972 Toomre and Toomre used NGC 6621/22 (also known as Arp 81) as an example. (See also NGC 4038).

The image is a 100% crop of the complete ST11K-image. Dusk was the reason for the relatively short exposure time of R,G and B.

CCDSharp and DDP were used.

Bemerkungen:

In ihrer berühmten-N-Körper-Berechnung von 1972 benutzten Toomre und Toomre NGC 6621/22 (auch als Arp 81 bekannt) als ein Beispiel. (Siehe auch NGC 4038).

Das Bild ist ein 100%-Ausschnitt des gesamten ST11K-Bildes. Die beginnende Morgendämmerung ist der Grund für die relativ kurzen Belichtungszeiten von R, G und B.

CCDSharp und DDP wurden benutzt.
Back to the Galaxies' Overview / Zurück zur Galaxien-Übersichtsseite