Higher resolved image / höher aufgelöstes Bild (2000 x1348 Pixel)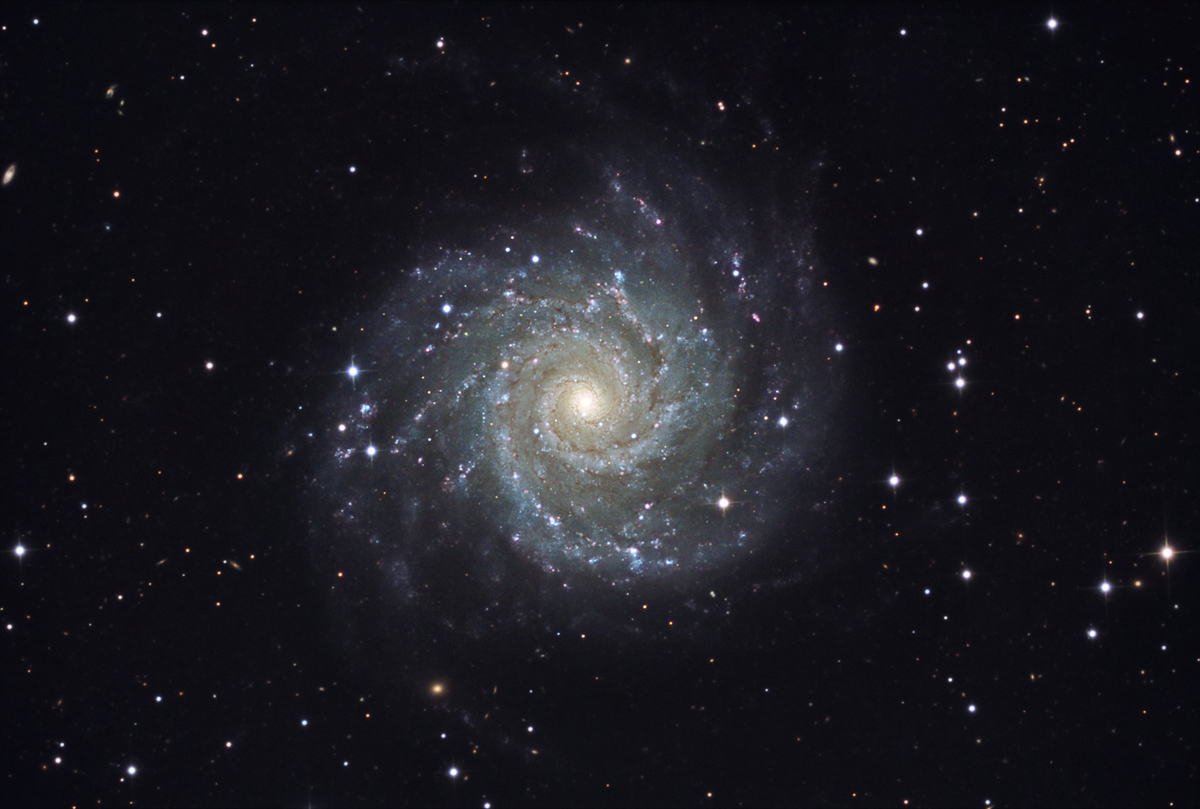 | | | | |
| --- | --- | --- | --- |
| Type Sc, distance ~ 3.6Mpc/11MLy. | | | |
(c) 2006 All astro photo images are copyrighted. They may not be used or reproduced without explicit written permission from the authors.
About this Image / Über dieses Bild
CCD:
SBIG STL-11000M
Image Type, Orientation:
L-RGB Composite, North is at 11:45h
Exposure time:
L: 17x600 sec. 1x1 bin, R,G,B :3x600 sec. 2x2 bin
Exposure date:
August 23rd (L) and 25th (R,G,B) 2006
Location:
Skinakas Observatory at Crete, Greece
Filter:
SBIG 2" LRGB filter set for STL
Instrument:
Ganymed 60cm-Hypergraph in secondary focus (f=4938.3 mm)
Seeing (FWHM):
1.3"
Photographer:
Josef Pöpsel, Stefan Binnewies, Rainer Sparenberg
Remarks:

M74 is one of our first images shot after moving to Skinakas (Crete, Greece). Because of its very low area intensity M74 was categorized as a globular cluster up to the 50th of the last century. The reason was, that even big telescopes visualy only show the "bright" core of the galaxy which can be confused with a globular cluster easily. M74 is one of those Messier objects with the lowest surface brightness.

CCDSharp and DDP were used.

Seven years after this exposure a SN explosion happend in M74. An image of this (blinked with the image above) can be foud here.

Bemerkungen:

M74 ist eines der ersten Bilder, die wir nach dem Umzug nach Skinakas (Kreta, Griechenland) gemacht haben. M74 wurde bis in die 50er Jahre des letzten Jahrhunderts als Kugelsternhaufen kategorisiert. Der Grund war, das auch in großen Teleskopen visuell nur der "helle" Kern der Galaxie zu sehen ist, der leicht mit einem Kugelsternhaufen zu verwechseln ist. M74 ist eines der Messier-Objekte mit der geringsten Flächenhelligkeit.

CCDSharp und DDP wurden benutzt.

Sieben Jahre nach dieser Aufnahme explodierte eine Supernova in M74. Ein Bild hiervon (geblinkt mit dem Bild oben) ist hier zu finden.
Back to the Galaxies' Overview / Zurück zur Galaxien-Übersichtsseite