[back] M65, M66, NGC 3628 (Leo Triplett, wide field) in Leo[NED]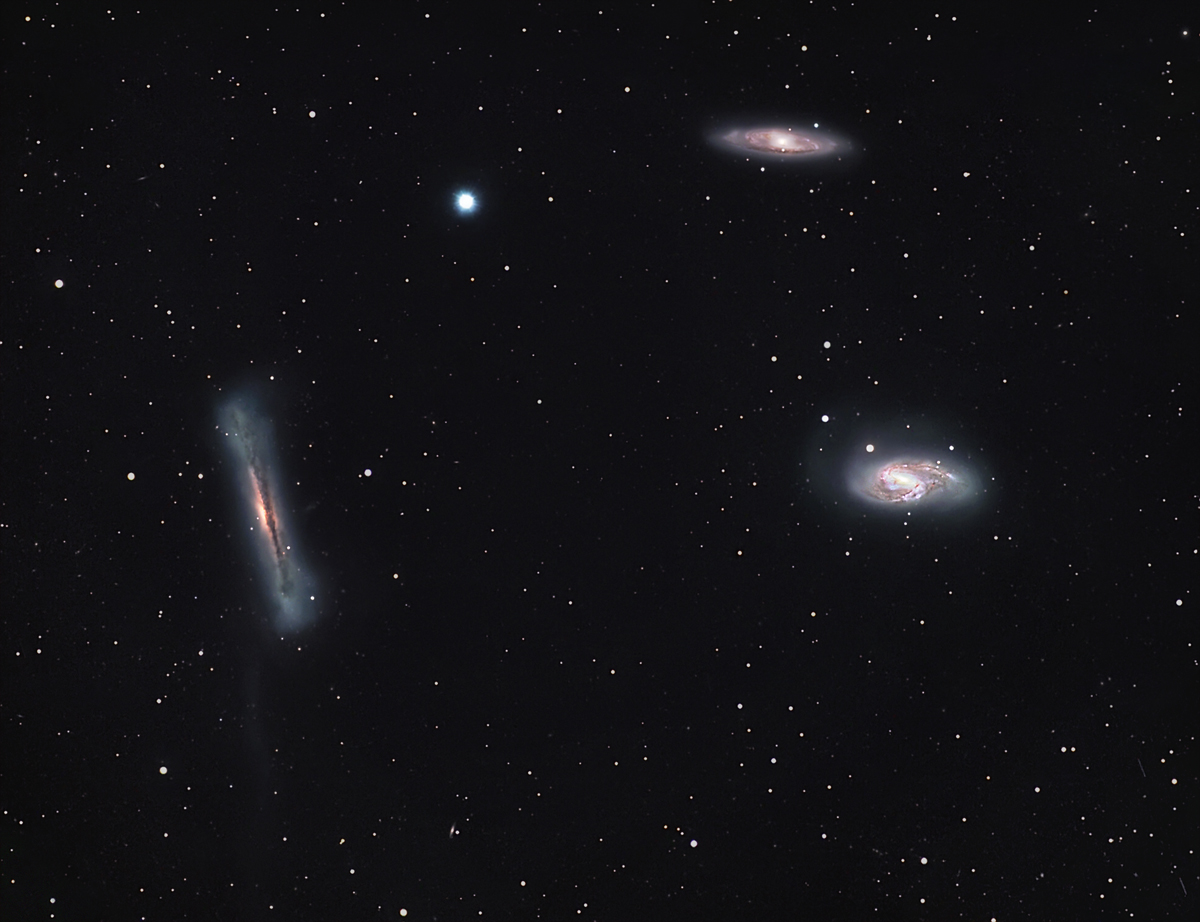 | | | | |
| --- | --- | --- | --- |
| Type/distance: M65:SBa, ~17Mpc/56MLy, M66: SBb, ~9.9Mpc/32MLy, NGC 3628: Sb, ~11Mpc/38MLy, | | | |
(c) 2005 All astro photo images are copyrighted. They may not be used or reproduced without explicit written permission from the authors.
About this Image / Über dieses Bild
CCD:

SBIG ST10 XME

Image Type, Orientation:
LRGB Composite, North is at 9:00h
Exposure time:
L: 15x600 sec. 1x1 bin, R,G,B: 3x600 sec. 2x2 bin
Exposure date:
February 6th, 2005, starting at 22:45 UT
Location:
Much, Bergisches Land, Germany (235m above MSL)
Filter:
FR03 + Astronomik
Typ II LRGB filters
Instrument:
Astro-Physics 105mm-Refractor Traveler, f=600mm (f6)
Photographer:
Stefan Binnewies
Remarks:

The three galaxies are the most impressive triplet at the sky. In contrast to the Leo triplet a reasonable focal length for the triplet NGC 7582/90/99 in Grus must be longer (see here). The aim when photographing this image was to display the eastern tidal tail of NGC 3682 (below NGC 3682 in the image). The tail appeared much dimmer than expected, may be as a result of the not too fast focal ratio of the used refractor (f6). The transparency of the sky was not optimal (5.7 mag limiting magnitude in the zenit). Also unexpected was the number of minor planets in the image. The two brightest can be seen easily in the image above (17.0 and 17.1 mag). Two others (not listed in Guide 8) can be seen in the inverted and contrast enhanced view below. The original image (sum of all luminance exposures) contains two more certain and 2-4 uncertain minor planet trails. Ice crystals forming on the CCD during the exposures led to some difficulties in getting the background of the image smooth. As a consequence, only a fraction of the complete image was processed and is displayed here.

Bemerkungen:
Die drei Galaxien geben das eindrucksvollste Galaxientriplett des Himmels ab. Das Triplett NGC 7582/90/99 im Sternbild Grus benötigt deutlich mehr Brennweite um ein ähnlich aufgelöstes Ergebnis zu bringen. Zweck der Aufnahme war die Darstellung des Galaxienschweifs, östlich (nach unten) bei NGC 3628. Das Objekt kommt unerwartet schwach, wahrscheinlich wegen des doch recht langsamen Öffnungsverhältnisses des Refraktors. Auch war während der Aufnahme die Transparenz nicht optimal (Grenzgröße 5,7mag im Zenit). Unerwartet auch die Anzahl der mit abgebildeten Kleinplaneten. Zwei fallen schon im Bild oben auf (unten rechts, 17,0 und 17,1mag hell), zwei weitere, bisher in Guide 8 nicht aufgeführte Planetoiden sind im invertierten und kontrastgesteigerten Ausschnitt (siehe unten) markiert. Das Original (Summenbild aus dem L-Kanal) enthält noch eine weitere Anzahl sicherer (2) und fraglicher (2-4) Planetoidenspuren. Da sich während der Aufnahme Eiskristalle auf dem Eintrittsfenster der CCD-Kamera bildeten, gab es Schwierigkeiten mit dem "glatten" Bildhintergrund. Deshalb wurde auch nur ein Ausschnitt aus dem Originalbild bearbeitet.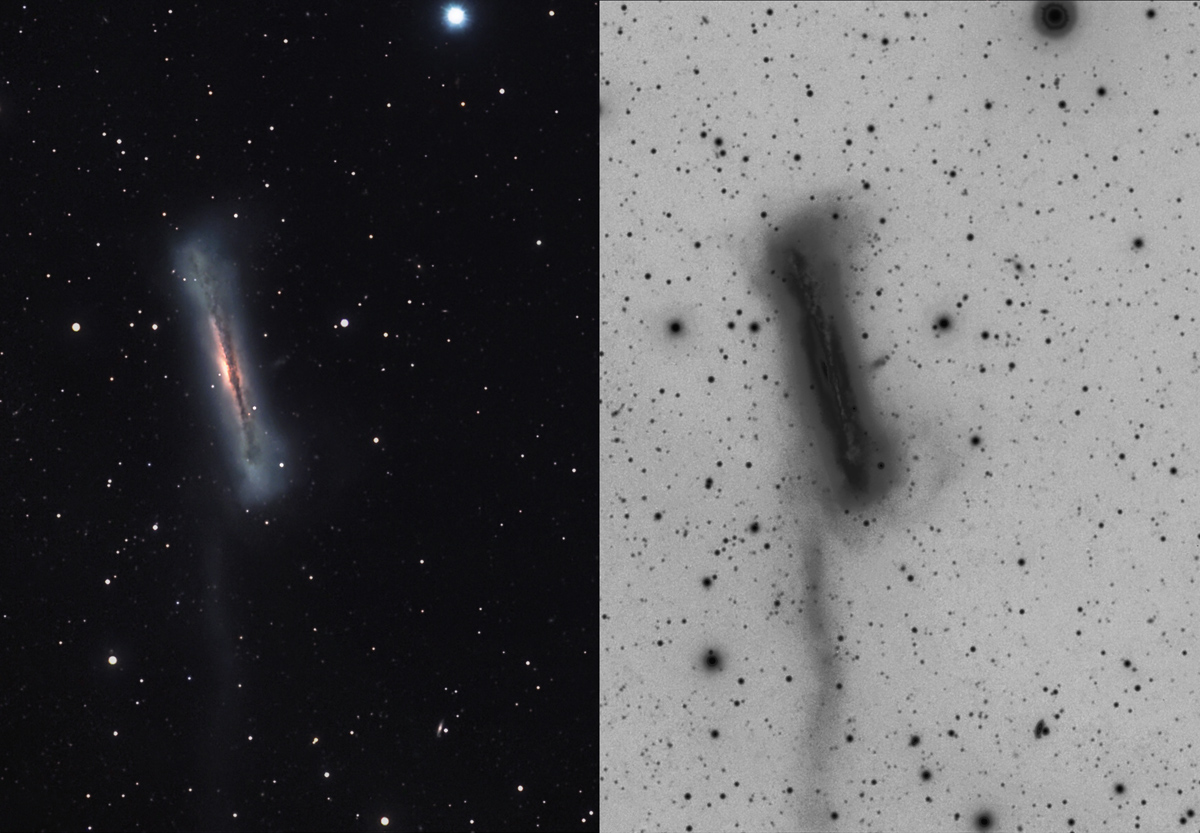 Back to the Galaxies' Overview / Zurück zur Galaxien-Übersichtsseite