[back] NGC 6357 in Scorpius [NED]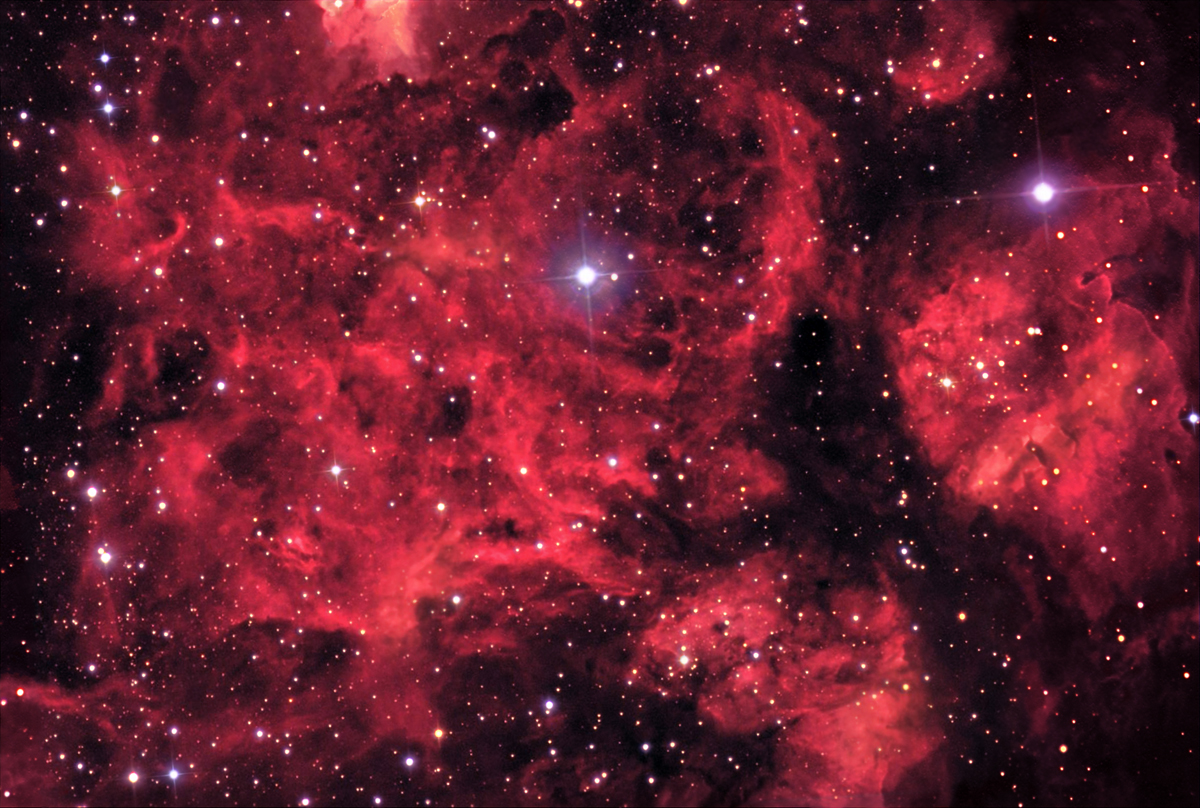 | | | | |
| --- | --- | --- | --- |
| (c) 2005 All astro photo images are copyrighted. They may not be used or reproduced without explicit written permission from the authors. | | | |
About this Image / Über dieses Bild
CCD:
ST10 XME
Image Type, Orientation:
Ha-RGB Composite, North is at 9:00h
Exposure time:
Ha: 12x300sec. 1x1 bin, R,G,B: 4x120 sec. 2x2 bin
Exposure date:
May 8th, 2005
Location:
Capella Observatory at Amani Lodge, Kupferberg near Windhoek, Namibia
Filter:
FR03 + Astronomik
Typ II HaRGB filters
Instrument:
Ganymed 60cm-Hypergraph in primary focus, f=1800 mm
Seeing (FWHM):
4.1"(!)
Photographer:
Josef Pöpsel, Beate Behle
Remarks:

An image of the brightest part of the nebula, which is positioned at the upper edge in the image above, can be found here. Most details of the nebula fall victim to the horrible seeing. (Compare the image above (f=1800mm) with this (f=4800mm!) to see, what we mean.)

Image slightly processed with CCD-Sharp and digital development (DDP).

Bemerkungen:

Ein Bild der hellsten Region des Nebels, der sich am oberen Rand des Bildes oben befindet, ist hier zu finden. Die meisten Details des Nebels sind dem schrecklichen Seeing am Aufnahmetag zum Opfer gefallen. (Man vergleiche die Aufnahme oben (f=1800mm) mit dieser (f=4800mm!), um zu sehen, was gemeint ist.)

Das Bild wurde leicht mit Hilfe von CCD-Sharp und "digital development" (DDP) bearbeitet.
Back to the Diffuse Nebulae Overview / Zurück zur Diffuse-Nebel-Übersichtsseite