[back] NGC 6164/65 in Norma [NED]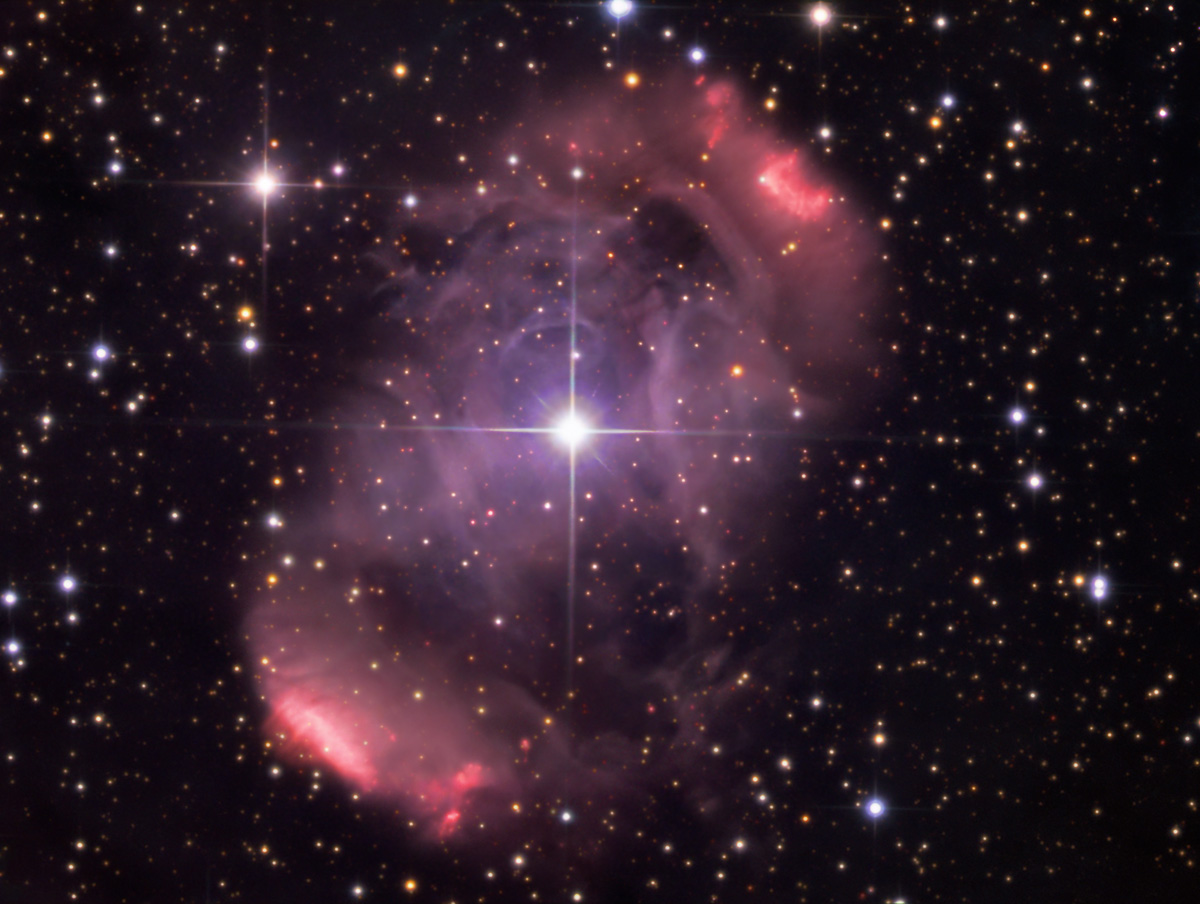 | | | | |
| --- | --- | --- | --- |
| (c) 2004 All astro photo images are copyrighted. They may not be used or reproduced without explicit written permission from the authors. | | | |
About this Image / Über dieses Bild
CCD:
ST10 XME
Image Type, Orientation:
LRGB Composite, North is up
Exposure time:
L: 10x60 sec.+3x180 sec. 1x1 bin, R,G,B: 5x60 sec. 2x2 bin
Exposure date:
May 23rd, 2004
Location:
Capella Observatory at Amani Lodge, Kupferberg near Windhoek, Namibia
Filter:
FR03 + Astronomik
Typ II LRGB filters
Instrument:
Ganymed 60cm-Hypergraph in secondary focus, f=4800 mm
Seeing (FWHM):
2.5"
Photographer:
Rainer Sparenberg, Stefan Binnewies, Volker Robering
Remarks:

The central star of this diffuse nebula (it is not a PN!) is a 6.7 mag B0 Wolf-Rayet-star as in Thor's Helmet.

Since the blooming of the central star was quite big in the original image, the manual removing may have introduced some non real structures in the area of the vertical diffraction spikes of the star.

Image processed with CCD-Sharp and digital development (DDP).

Bemerkungen:

Der Zentralstern dieses diffusen Nebels (es ist kein PN!) ist ein 6,7 mag heller B0 Wolf-Rayet-Stern wie in Thors Helm.

Da das Blooming des Zentralsterns auf den Originalbildern recht groß war, könnten sich beim manuellen Entfernen desgleichen einige nicht reale Strukturen in den Bereichen der vertikalen Diffraktions-Spikes des Sterns eingeschlichen haben.

Das Bild wurde mit Hilfe von CCD-Sharp und "digital development" (DDP) bearbeitet.
Back to the Diffuse Nebulae Overview / Zurück zur Diffuse-Nebel-Übersichtsseite