[back] RCW57 with NGC 3603 et al. in Carina [NED]
Higher resolved image / höher aufgelöstes Bild (2000 x1355 Pixel)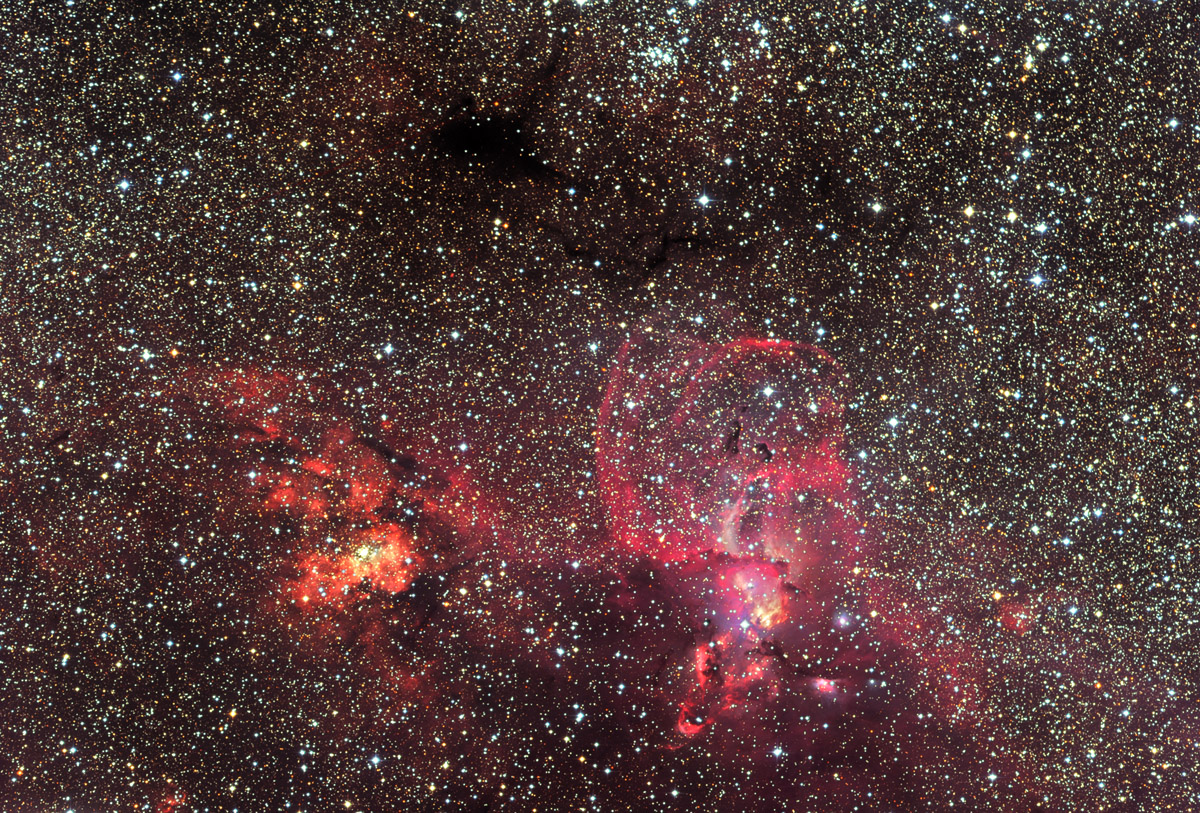 | | | | |
| --- | --- | --- | --- |
| (c) 2006 All astro photo images are copyrighted. They may not be used or reproduced without explicit written permission from the authors. | | | |
About this Image / Über dieses Bild
CCD:
SBIG STL-11000M
Image Type, Orientation:
LRGB Composite, North is at 12:30h
Exposure time:
L: 8x300 sec. 1x1 bin, R,G,B :3x300 sec. 2x2 bin
Exposure date:
May 2nd, 2006, starting at 22:33 MESZ
Location:
Capella Observatory at Amani Lodge, Kupferberg near Windhoek, Namibia
Filter:
SBIG 2" LRGB filter set for STL
Instrument:
Ganymed 60cm-Hypergraph in primary focus (f=1800 mm)
Seeing (FWHM):
2.4"
Photographer:
Stefan Binnewies, Josef Pöpsel
Remarks:

The map overlayed to the picture above, which can be found below, may help to identify the different objects in the image.

The color difference between the left and the right part of RCW 57 are the result of completely different distances of this two (sperated) emmision nebulas. The left part is much more away from us and more red since much more galactic dust blocks its light manly at shorter wavelengths.

A higher resolved secondary focus image of the western (right) part of RCW 57 can be found here.

CCDSharp and DDP were used.

Bemerkungen:

Die Karte, die dem Bild oben überlagert wurde (siehe unten) mag zum Identifizieren der verschiedenen Objekte des Bildes dienen.

Die Farbdifferenz zwischen dem linken und rechten Teil von RCW 57 ist das Ergebnis von zwei komplett verschiedenen Abständen dieser beiden (unterschiedlichen) Emissions-Nebel. Der linke Teil ist weiter weg von uns und aufgrund der größeren Menge galaktischen Staubes, der im wesentlichen die kürzeren Wellenlängen blockt, rötlicher.

Eine höher aufgelöste Sekundärfokusaufnahme des westlichen (rechten) Teils von RCW 57 ist hier zu finden.

CCDSharp und DDP wurden benutzt.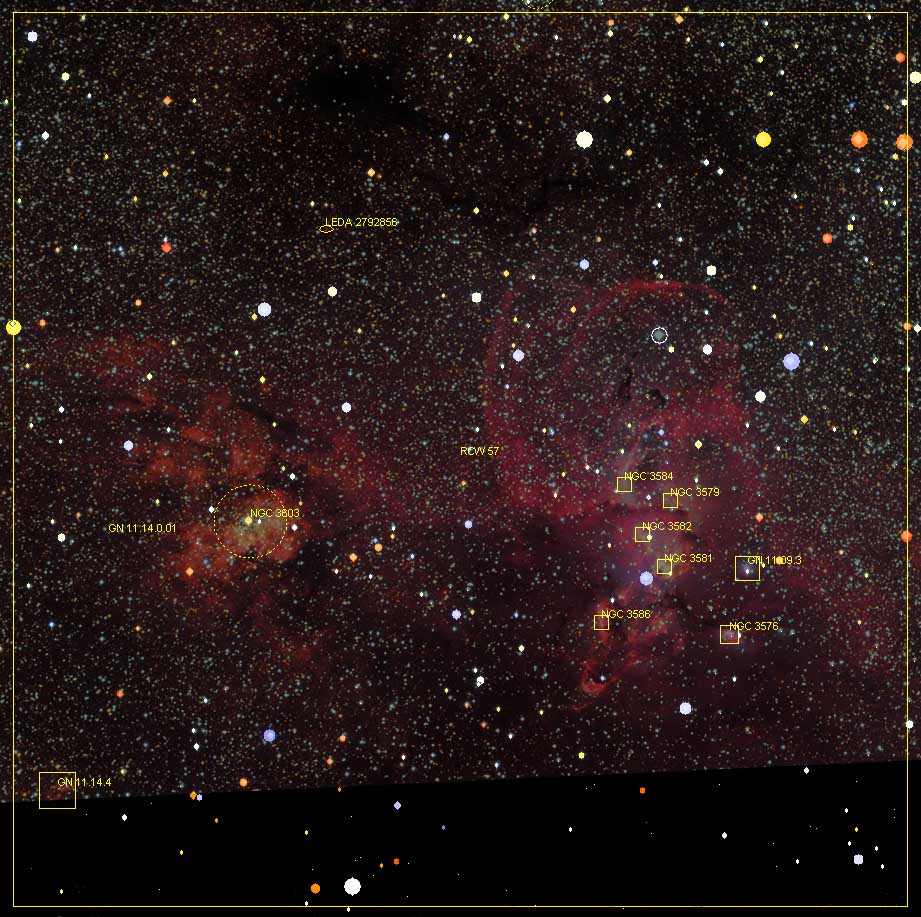 Back to the Diffuse Nebulae Overview / Zurück zur Diffuse-Nebel-Übersichtsseite