[back] M 16 (Eagle Nebula/Adler Nebel) in Serpens [NED]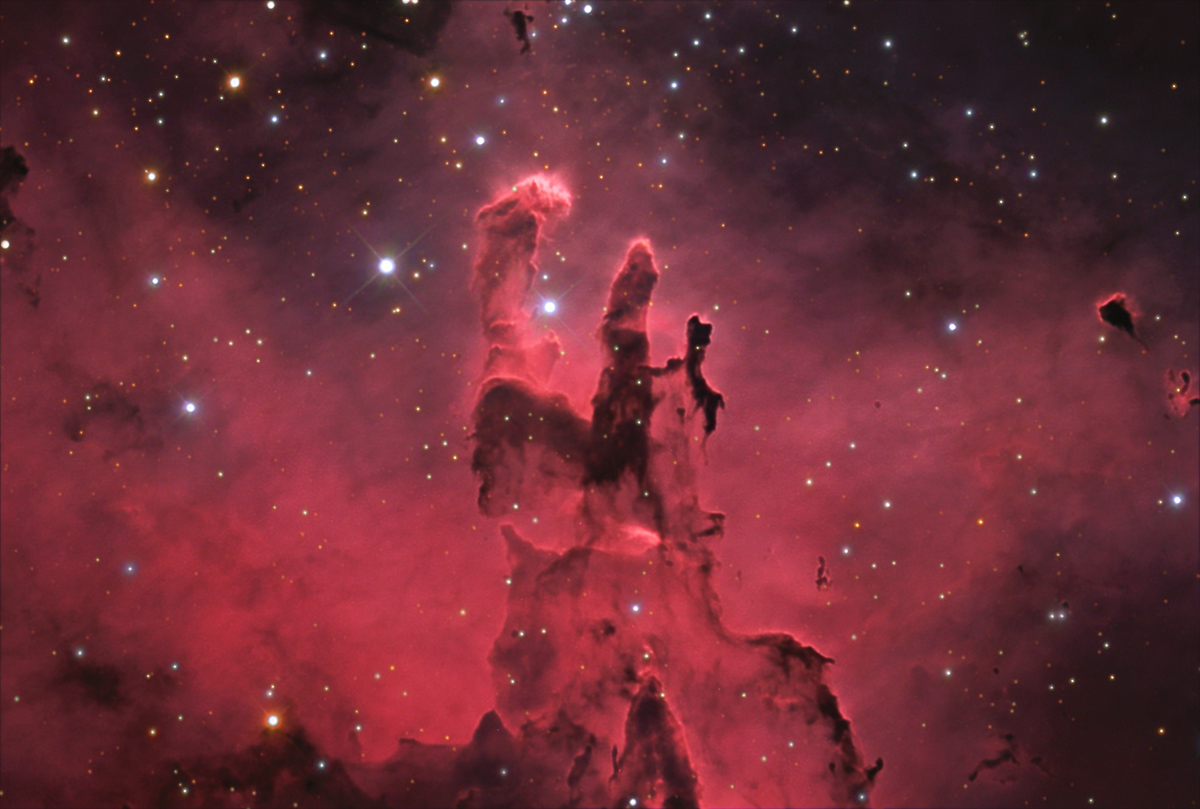 | | | | |
| --- | --- | --- | --- |
| (c) 2004 All astro photo images are copyrighted. They may not be used or reproduced without explicit written permission from the authors. | | | |
It may be interesting to find the similarities and the differences between the wellknown HST false color image of M16 and the image above. As always, the HST image is extremly sharp and to our opinion it is a very bad idea not supporting this extraordinary telescope in the future!
Interessant sind die Unterschiede bzw. die Gemeinsamkeiten zwischen dem berühmten Falschfarbenbild von M16, das mit Hilfe des HST gemacht wurde, und dem Bild oben. Wie immer ist das HST-Bild extrem scharf und nach unserer Meinung ist es eine schlechte Idee, dieses außergewöhnliche Teleskop in Zukunft nicht weiter zu warten.
(c) 2004 All astro photo images are copyrighted.

They may not be used or reproduced without explicit written permission from the authors.
About this Image / Über dieses Bild
CCD:
ST10 XME
Image Type, Orientation:
Ha(=L)-RGB Composite, North is at 1:30
Exposure time:
H-Alpha: 12x300 sec. 1x1 bin, R,G,B: 6x300 sec. 2x2 bin
Exposure date:
May 14th, 2004
Location:
Capella Observatory at Amani Lodge, Kupferberg near Windhoek, Namibia
Filter:
FR03 + Astronomik
Typ II H-Alpha,RGB filters
Instrument:
Ganymed 60cm-Hypergraph in secondary focus, f=4800 mm
Seeing (FWHM):
1.8"
Photographer:
Rainer Sparenberg, Stefan Binnewies, Volker Robering
Remarks:

First attempts using the H-Alpha filter for emisson nebulas.

The Capella-Web-Site contains five different versions of the Eagle Nebula: A wider field in false color (f=1800mm) and this image, both imaged from Amani Lodge (Namimbia), the southern part imaged from Skinakas (f=9867mm), the northern part imaged from Skinakas (f=9867mm) and an image made @f=940mm from Skinakas.

Image processed with CCDSharp and digital development (DDP) in the areas of the brightest globulars

Bemerkungen:
Erste Versuche mit dem H-Alpha Filter bei Emissionsnebeln.
Die Capella-Web-Seite enthält fünf verschiedene Versionen des Adler-Nebels: Eine "weit"winklige Falschfarbenaufnahme (f=1800mm) und diese Aufnahme, beide auf der Amani Lodge (Namimbia) belichtet, den südlichen Teil, aufgenommen von Skinakas (f=9867mm), den nördlichen Teil, ebenfalls von Skinakas (f=9867mm) und schließlich eine Aufnahme bei f=940mm von Skinakas aus.
Das Bild wurde mit Hilfe von CCDSharp und "digital development" (DDP) im Bereich der hellsten Globulen bearbeitet
Back to the Diffuse Nebulae Overview / Zurück zur Diffuse-Nebel-Übersichtsseite