[back] Deep view into the Large Magellanic Cloud /
Tiefer Blick in die Große Magellansche Wolke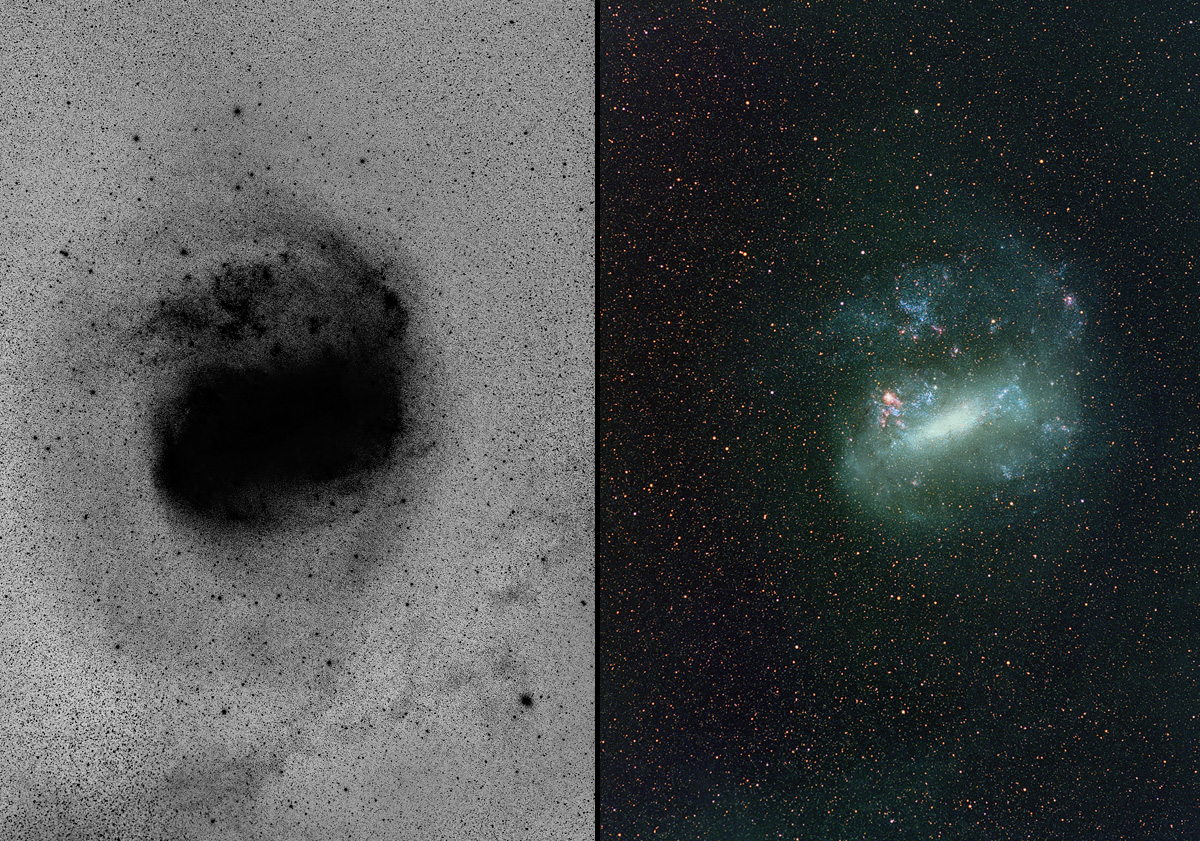 (c) 2005 All astro photo images are copyrighted. They may not be used or reproduced without explicit written permission from the authors.
About this Image / Über dieses Bild
The image shot in Namibia, was exposed 30 minutes on Kodak Ektachrome Pro Gold 400 . Lens: 4.0/165mm (medium format). North is up. Photographed by S. Binnewies.
The inverted version of the image brings out the dim outer shells of the Large Magellanic Cloud. The center of these shells with a diameter up to 10 degrees is the central bar of the LMC. In contrast to the loops a girland shaped ribbon can be seen, which sspans from the lower left corner of the image upward right. Possibly this is galactic cirrus. Finally a dim "bridge" between both structures can be seen. Is this an overlapping effect or a real interaction?

Die Aufnahme aus Namibia wurde 30 Min. auf Kodak Ektachrome Pro Gold 400 belichtet. Objektiv: 4,0/165mm (Mittelformat). Norden ist oben. Fotografiert von S. Binnewies.
Die invertierte Version der Aufnahme erlaubt einen Blick auf die schwachen Außenschalen der Großen Magellanschen Wolke, die sich konzentrisch bis zu mehr als 10° Durchmesser um dem zentralen Balken der Galaxie ausdehnen. Davon zu unterscheiden ist ein girlandenförmiges Band, möglicherweise galaktischer Zirrus, das sich von links unten in Richtung des rechten Bildrandes erstreckt. Dieses erscheint auch in einer anderen Farbe. Außerdem deutet sich eine schwache "Brücke" nahe der Mitte unten zwischen beiden Strukturen an, Überlagerungseffekt oder reale Wechselwirkung?
Back to the "Star-Fields" Overview / Zurück zur "Sternfelder"-Übersichtsseite