[back] Comet C/2006 P1 McNaught dust tail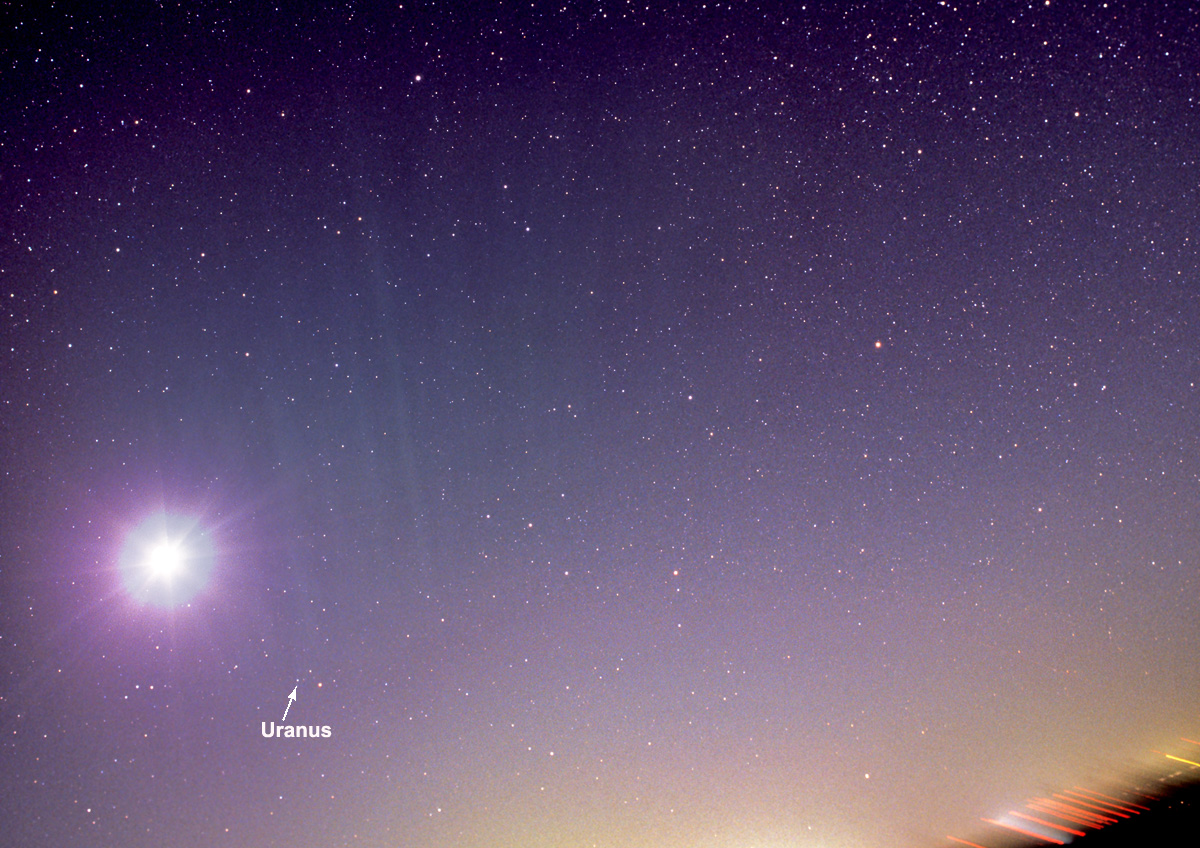 | | |
| --- | --- |
| (c) 2007 All astro photo images are copyrighted. They may not be used or reproduced without explicit written permission from the authors. | |
Shortly after the perihelion transit it was possible during about 5 days to see the giant dust tail of comet McNaught from both hemispheres. APOD shows an explanatory image for February, 1st 2007: http://antwrp.gsfc.nasa.gov/apod/ap070201.html.
After January 22nd the moon got in the way of observing. So the image above was done last-minute: it was shot on January 22, 2007 between 17:38 UT and 18:09 UT. The image shows a croped part of a composite of 4 medium format slides, exposed on Kodak E 200. Also visible on the image is Uranus and the bright Moon appearing glittering. Place of exposure was the Emsland in Germany.
Kurz nach dem Periheldurchgang ergab sich etwa 5 Tage lang die Möglichkeit, den gewaltigen Staubschweif des Kometen McNaught von beiden Erdhemisphären aus zu beobachten. Eine erklärende Aufnahme zeigt dazu das APOD vom 1.Februar 2007: http://antwrp.gsfc.nasa.gov/apod/ap070201.html.
Nach dem 22. Januar verschloss der Mond der Nordhalbkugel dieses Beobachtungsfenster. Die obige Abbildung entstand also "auf den letzten Drücker". Sie ist der Ausschnitt eines Komposits aus 4 Mittelformatdias, aufgenommen auf Kodak E 200 am 22.01.2007 zwischen 17:38 und 18:09 UT. Mit im Bild Uranus und der gleißend hell erscheinende Mond. Aufnahmeort nordöstlich von Lathen im Emsland, Deutschland.


Image Author: Stefan Binnewies
Back to the Comet Overview / Zurück zur Kometen-Übersichtsseite