[back] SH2-91 (Southern Part of a galactic SNR) in Cygnus
Higher resolved image / höher aufgelöstes Bild (1800 x 1224 Pixel)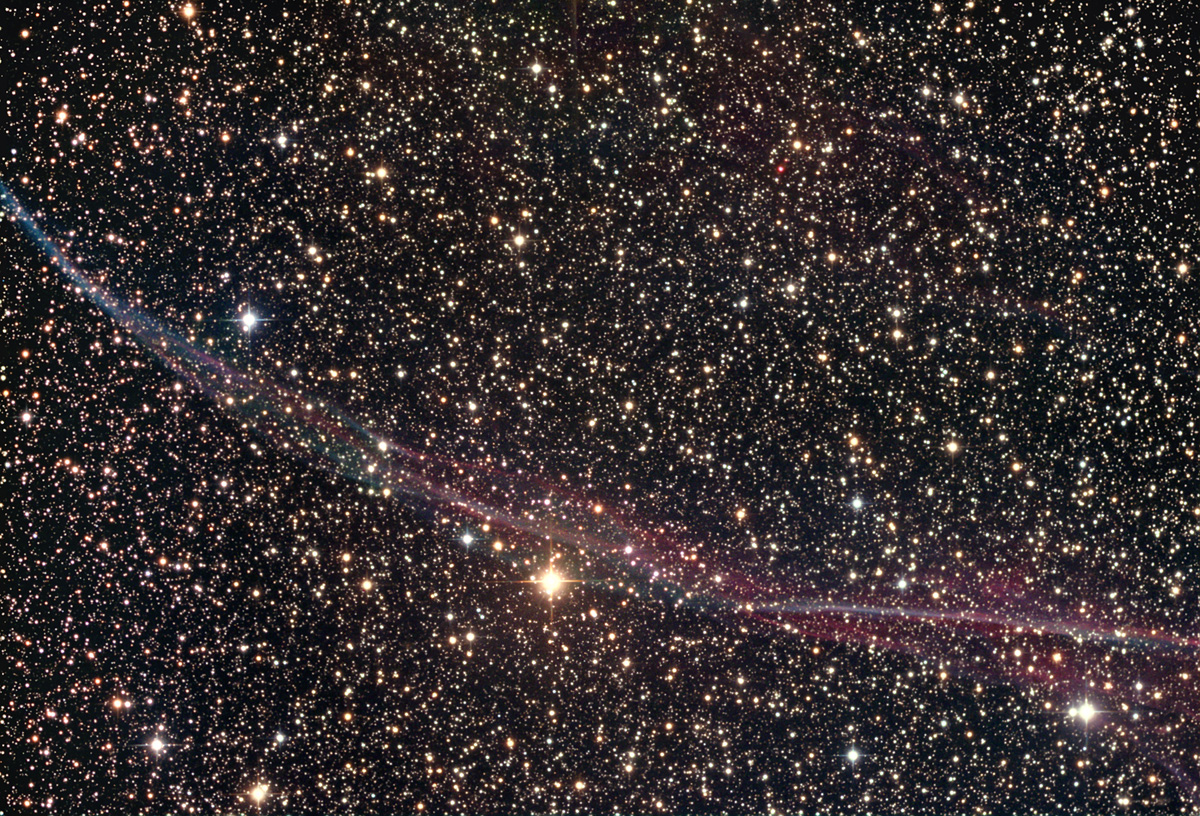 | | | | |
| --- | --- | --- | --- |
| (c) 2008 All astro photo images are copyrighted. They may not be used or reproduced without explicit written permission from the authors. | | | |
About this Image / Über dieses Bild
CCD:
SBIG STL-11000M
Image Type, Orientation:
(HaOIII)-(RHa)(GOIII)(BOIII) Composite, North is at 12:00h
Exposure time:
Ha (6nm): 17x900 sec. 1x1 bin, OIII: 8x900 sec. 1x1 bin, R: 4x900 sec. 2x2 bin, G,B: 3x900 sec. 2x2 bin
Exposure date:
August 11th ... September 2nd, 2008
Location:
Skinakas Observatory at Crete, Greece, remote-controlled from Bad Arolsen and Much/Germany
Filter:
SBIG 2" RGB filter set for STL and Astronomik
6nm Ha, and OIII Filter
Instrument:
Ganymed 60cm-Hypergraph in secondary focus (f=4938.3 mm)
Seeing (FWHM):
1.4"
Photographer:
Josef Pöpsel, Stefan Binnewies

Remarks:

The brightest star in the field is SAO 87517. From there in 1:00h direction about 70% of the way towards the upper image edge a remarkably red "mini" star with a small nebula tail took our attraction. Below a 150% crop of the area is shown. At the VizieR Detailed Page the object is classified as "non star" (Note 3). Perhaps an other "new" PN in Cygnus?!

Bemerkungen:

Der hellste Stern im Feld ist SAO 87517. Von dort in Richtung 1:00h und nach etwa 70% der Wegstrecke bis zum oberen Bildrand fiel ein tief rotes Sternchen mit kleinem Nebelanhängsel auf. Unten ist ein Ausschnitt mit diesem Stern in 150% Größe angehangen. Auf der VizieR Detailed Page wird das Objekt als "non star" (Note 3) geführt. Vielleicht ein weitere "neuer" PN im Cygnus?!
150% crop of the region around the "new PN" / 150%-Ausschnitt der Umgebung des "neuen PNs"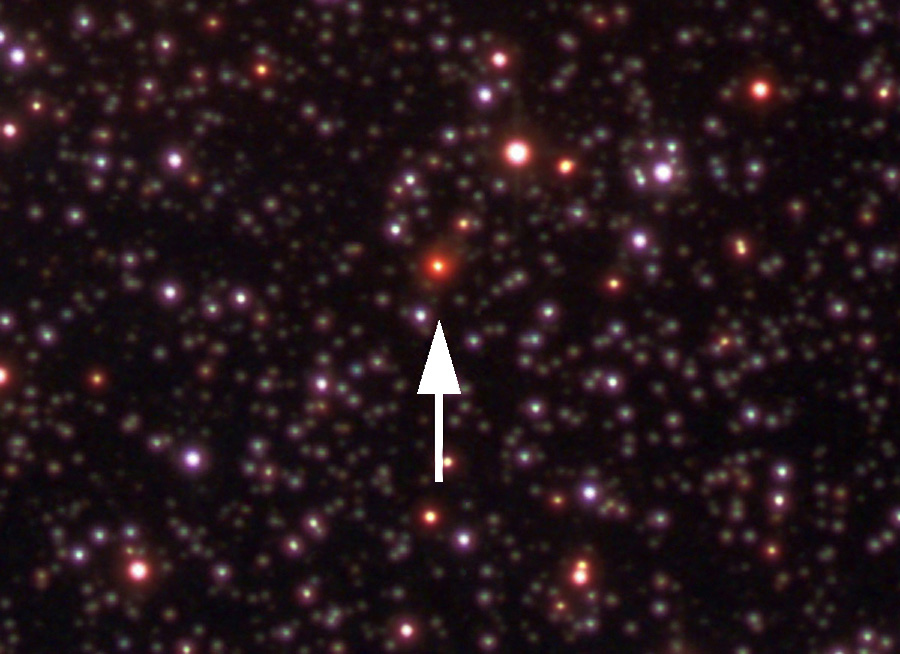 | | | | |
| --- | --- | --- | --- |
| (c) 2008 All astro photo images are copyrighted. They may not be used or reproduced without explicit written permission from the authors. | | | |
Back to the Supernovae-Remnants Overview / Zurück zur Supernovae-Überreste-Übersichtsseite