[back] NGC 6543 / IC 4677 (Cat`s Eye Nebula / Katzenaugennebel) & NGC 6552 in Draco[NED]
Higher resolved image / höher aufgelöstes Bild (2953 x 2220 Pixel)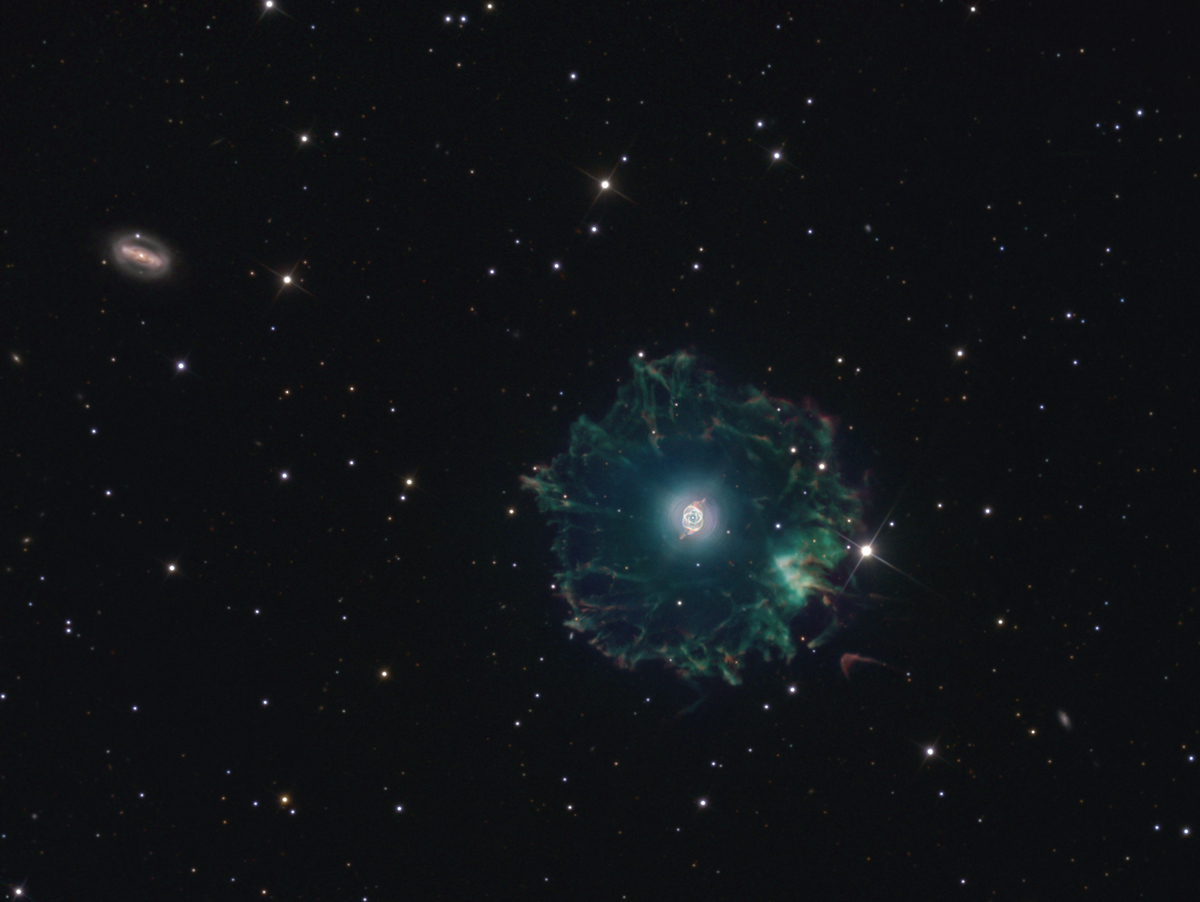 | | | | |
| --- | --- | --- | --- |
| (c) 2008 All astro photo images are copyrighted. They may not be used or reproduced without explicit written permission from the authors. | | | |
200% version of the center of NGC 6543 / 200%-Version des Zentrums von NCG 6543: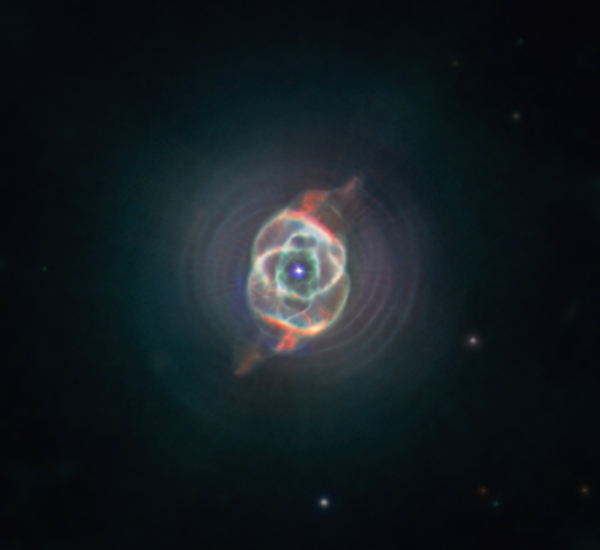 | | |
| --- | --- |
| (c) 2008 All astro photo images are copyrighted. They may not be used or reproduced without explicit written permission from the authors. | |
About this Images / Über diese Bilder
CCD:
SBIG STL-11000M
Image Type, Orientation:

For the field: (L+OIII+HII)-(R+HII)(G+OIII)(B+OIII) Composite, North is at 1:30h

For the center: HII,OIII,B Composite, North is at 1:30

Exposure time:

For the field: L: 15x900 sec. 1x1 bin, R,G,B 4x900 sec. 2x2 bin, HII,OIII: 5x900 sec. 1x1 bin

For the center: HII:, OIII, B: 8x60 sec., 1x1 bin

Exposure date:
June 10th-12th, 2008
Location:
Skinakas Observatory at Crete, Greece, remote-controlled from Bad Arolsen/Germany
Filter:
SBIG 2" LRGB filter set for STL and Astronomik
12nm HII, OIII filter
Instrument:
Ganymed 60cm-Hypergraph in secondary focus (f=4938.3 mm)
Seeing (FWHM):
1.15"
Photographer:
Josef Pöpsel, Stefan Binnewies

Remarks:

To get the extreme contrast differences between the center and the halo of the PN under control, the center image was superimposed by 50% into the field image.

IC 4677 is the bright part of the halo right to the center of the PN, NGC 6552 is the galaxy at the left edge of the image (Type SBbc, distance ~ 350MLy / 100Mpc)

CCDSharp and DDP were used.

Bemerkungen:

Um die extremen Kontrastunterschiede zwischen Zentrum und Halo des PNs in den Griff zu bekommen, wurde das Bild des Zentrums zu 50% in das Feld-Bild eingeblendet.

IC 4677 ist der helle Teil des Halos rechts neben dem Zentrum des PNs, NGC 6552 ist die Galaxie am linken Bildrand (Typ SBbc, Abstand ~ 350 MLy / 100 Mpc).

CCDSharp und DDP wurden benutzt.
Back to the Planetary Nebulae Overview / Zurück zur Planetarische-Nebel-Übersichtsseite