[back] M2-9 (Minkowski Butterfly) in Ophiuchus [NED]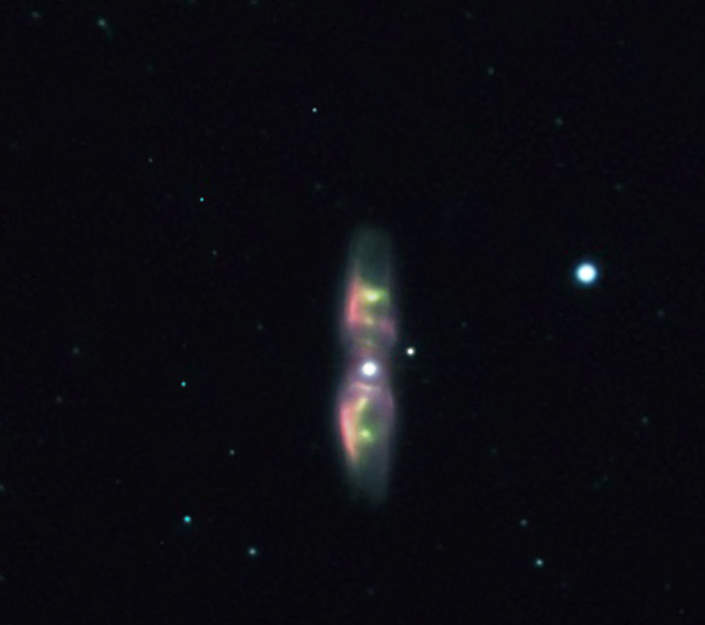 | | | | |
| --- | --- | --- | --- |
| (c) 2005 All astro photo images are copyrighted. They may not be used or reproduced without explicit written permission from the authors. | | | |
About this Image / Über dieses Bild
CCD:
ST10 XME
Image Type, Orientation:
LRGB Composite, North is up
Exposure time:
L: 7x600 sec. 1x1 bin, Ha,OIII,B:2x600 sec. 1x1 bin
Exposure date:
May 4th, 2005
Location:
Capella Observatory at Amani Lodge, Kupferberg near Windhoek, Namibia
Filter:
FR03 + Astronomik
Typ II LHaOIIIB filters
Instrument:
Ganymed 60cm-Hypergraph in secondary focus, f=4800 mm
Seeing (FWHM):
2.4"
Photographer:
Josef Pöpsel, Beate Behle

Remarks:

M2-9 is a bipolar planetary nebula which contains a double star in its center. One of these two stars "feeds" the other. As a "digestion result" matter is blown out of the fed star with an immense speed along its rotation axis. The mechanisms of the shape building of M2-9 are similar to the mechanisms of jet engines. A detailed description can be found here. The images of the animation (except the last one, which is "ours") (see below) are also taken from this article. Since the rotation axis of the fed star changes (staggers), the blown out jets are interacting with the different parts of the PN depending on time. These changes occure so fast, that visible differences of the PN appear after only a few years.

M2-9 became well known from a Hubble picture (see here). In contrast to the image above the Hubble image was done with a different color filter set, which explains the color differences. Not visible on the Hubble image (and, as far as we know, on no other image of M2-9) are the outer "blobs", which can be seen in the image at the end of this page.

A higher resolved version of M2-9 done with the Skinakas modified RC-129 cm-Telescope in secondary focus (9970 mm) can be found here.

CCD-Sharp and DDP were used when processing the raw image data.

Bemerkungen:

Bei M2-9 handelt es sich um einen bipolaren planetarischen Nebel, in dessen Zentrum sich ein Doppelsternsystem befindet, wovon der eine Stern den anderen "speist." Als "Verdauungsergebnis" wird entlang der Rotationsachse des gespeisten Sterns Materie mit immenser Geschwindigkeit ausgestoßen. Die Mechanismen bei der Formbildung von M2-9 sind denen eines Düsentriebwerkes nicht unähnlich. Eine genauere Beschreibung befindet sich z.B. hier. Diesem Artikel wurden auch die Bilder der Animation mit Ausnahme des jeweils letzten, welches "unsres" ist (s.u.), entnommen. Da die Rotationsachse des gespeisten Sterns sich ändert (Taumelbewegung) interagieren die ausgeworfenen Jets abhängig von der Zeit mit verschiedenen Teilen des Nebels. Und das so schnell, dass innerhalb weniger Jahre sichtbare Veränderungen des PNs wahrnehmbar sind.

Bekannt ist M2-9 unter anderem durch ein Bild von Hubble geworden (siehe hier). Im Gegensatz zur Aufnahme oben wurden dort allerdings andere Filter verwendet, was die Farbunterschiede erklärt. Nicht auf der Hubble-Aufnahme zu sehen (und, soweit wir wissen, auch auf keinem anderen Bild von M2-9) sind die weiten Ausläufer, die im Bild ganz unten auf dieser Seite zu sehen sind.

Eine höher aufgelößte version von M2-9, gemacht mit dem RC-129cm Teleskop (Sekundärfokus, f=9970mm) des Skinakas Observatoriums ist hier zu finden.

CCD-Sharp und DDP wurden beim Verarbeiten der Rohdaten benutzt.
The two animations on the right side show the changes of M2-9 in the light of Ha and OIII. The colored image on the right side is an overlay of the three OIII images of the years 1989, 1997 and 2005. The images of the years 1985 until 1999 are taken from the article "The evolving morphology of the bipolar nebula M2-9" by Doyle et. al. (see here).

Die beiden Animationen rechts zeigen die Veränderungen von M2-9 im Ha- und im OIII-Licht. Das farbige Bild rechts ist eine Überlagerung der OIII-Bilder aus den Jahren 1989, 1997 und 2005. Die Bilder aus den Jahren 1985 bis 1999 wurden dem Artikel "The evolving morphology of the bipolar nebula M2-9" von Doyle et. al. entnommen (siehe hier) .


(Gif-Animation, stay tuned until loaded...)

Color overlay of the [OIII]

images of the years

1989 1997 2005
The following image shows an inverted, contrast enhanced view of the L-Chanel of M2-9. The two "blobs", which enlarge the PN in north/south direction by a factor of two, are very dim but they can easily be distinguished from the background noice. They can also be seen in the Ha-, but not in the OIII- and the Blue exposures.
Die folgende Aufnahme zeigt eine invertierte, kontrastverstärkte Darstellung des L-Kanals von M2-9. Die beiden "Blobs", die den PN in Nord-Süd-Richtung um den Faktor 2 vergrößern, sind sehr schwach, aber problemlos vom Hintergrundrauschen zu unterscheiden. Sie sind ebenfalls in der Ha-, aber nicht in der OIII- und der Blauaufnahme sichtbar.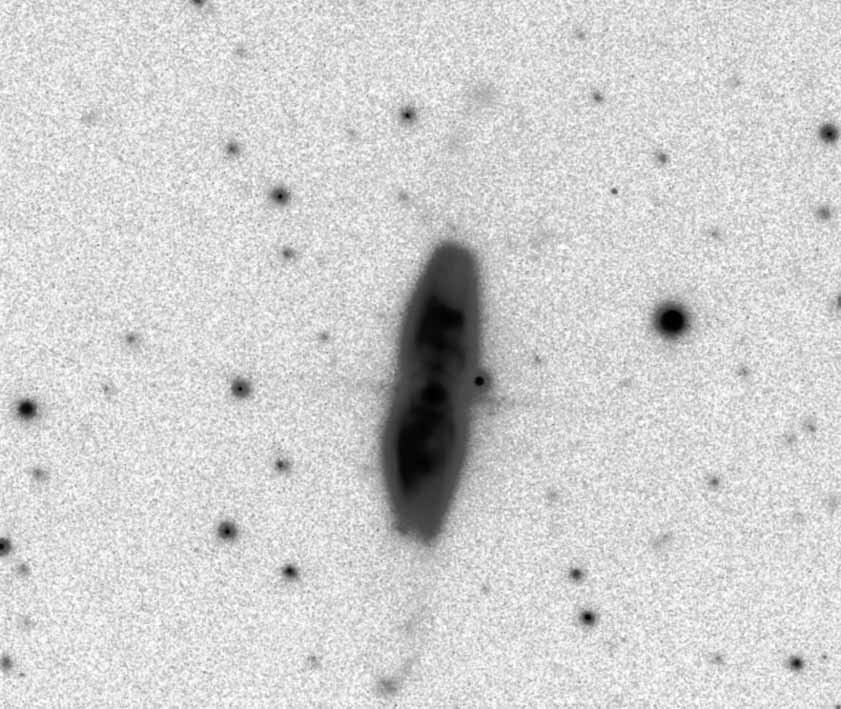 Back to the Planetary Nebulae Overview / Zurück zur Planetarische-Nebel-Übersichtsseite