[back] PK 318.4+41.4 (Abell 36) in Virgo [NED]
Higher resolved image / höher aufgelöstes Bild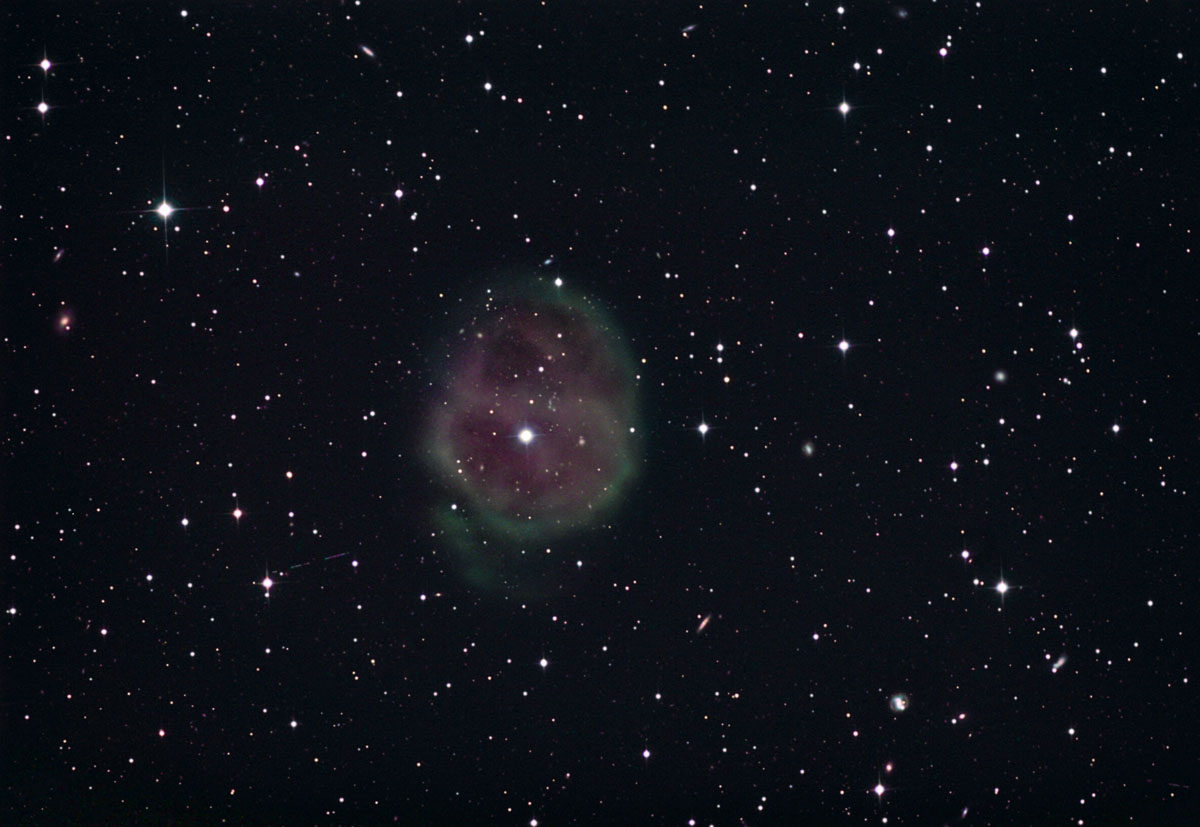 | | | | |
| --- | --- | --- | --- |
| (c) 2006 All astro photo images are copyrighted. They may not be used or reproduced without explicit written permission from the authors. | | | |
About this Image / Über dieses Bild
CCD:
ST10 XME
Image Type, Orientation:

L(H+R/O+G/O+B) and (LH)RGB (50/50)

Composite, North is at 12:00h
Exposure time:
L: 12x600 sec. 1x1 bin, Ha,OIII: 2x600 sec. 2x2 bin, R,G,B:3x600 sec. 2x2 bin
Exposure date:
May 11th, 2005
Location:
Capella Observatory at Amani Lodge, Kupferberg near Windhoek, Namibia
Filter:
FR03 + Astronomik
Typ II L, Ha, OIII, R, G, B filters
Instrument:
Ganymed 60cm-Hypergraph in primary focus, f=1800 mm
Seeing (FWHM):
2.7"
Photographer:
Josef Pöpsel, Beate Behle
Remarks:

The PN was discovered in 1955 by George Abell on the POSS plates. The optical diameter is 370", the V intensity of the central star is 11.5 mag. Defining the HII intensity of the PN to 100, the intensity of OIII is 117. The NII intensity is 32 and certainly the used HII filter also passed this emission line.

During the exposure not less than five minor planets crossed the observed part of the sky. Two of them are known ( (48072) 2001 FB11 und 2005 CT25 ) but the other three will stay unknown, because nobody did a follow up observation...

An animation of the L raw images, where the movement of the MPs can easily be detected, is shown below.

CCD-Sharp was used.

Bemerkungen:
Der PN wurde 1955 von George Abell auf den POSS Platten entdeckt. Der optischer Durchmesser beträgt 370", die Helligkeit des Zentralsterns 11,5 mag. (V). Wird die Intensität bei HII zu 100 gesetzt, liegt sie bei OIII bei 117 (bei NII übrigens bei 32, und diese Linie bei 658,4nm dürfte unser HII-Filter mit durchlassen).
Während der Belichtung huschten gleich fünf Kleinplaneten durchs Bild, von denen zwei bekannt sind ( (48072) 2001 FB11 und 2005 CT25 ), die anderen drei (zugegeben sehr schwachen) aber wohl nicht. Nun werden sie ob der fehlenden Nachverfolgung wohl auch weiterhin unbekannt sein. Eine Animation der L-Rohbilder, auf der die Bewegung der KPNs gut zu sehen ist, ist unten zu finden.
CCD-Sharp wurde benutzt.
Back to the Planetary Nebulae Overview / Zurück zur Planetarische-Nebel-Übersichtsseite