[back] NGC 4755 (Jewel Box / Schmuckkästchen) in Crux [NED]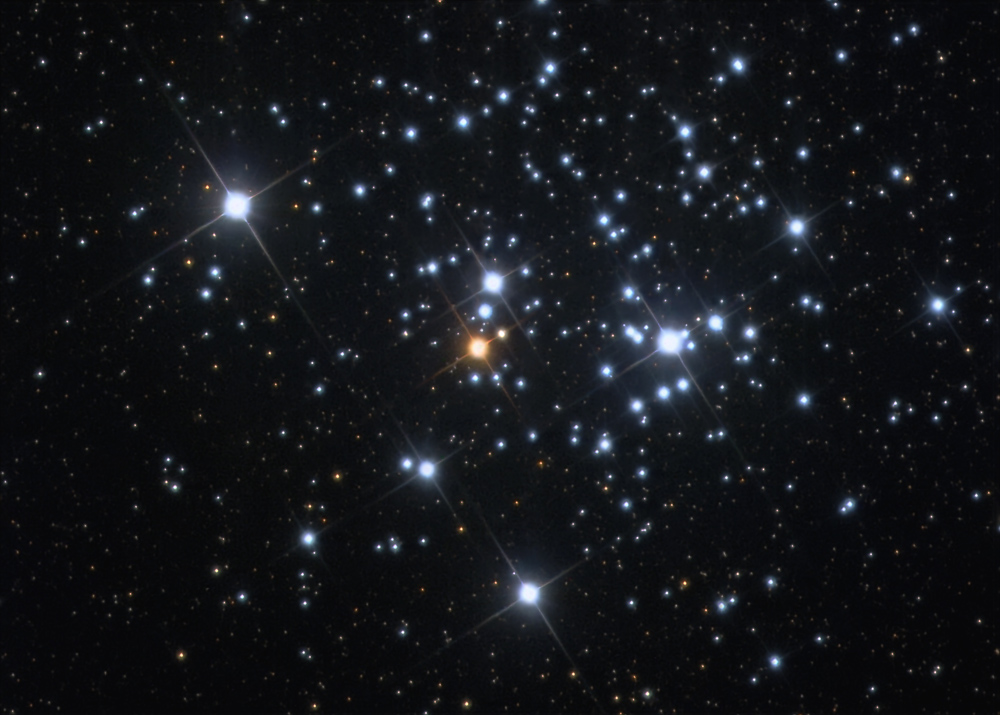 (c) 2004 All astro photo images are copyrighted. They may not be used or reproduced without explicit written permission from the authors.
About this Image / Über dieses Bild
CCD:
ST10 XME
Image Type, Orientation:
LRGB Composite, North is at 8:00
Exposure time:
L:20x3 sec, 1x1bin, R,G,B: 20x3 sec.each, 2x2 bin
Exposure date:
May 8th, 2004 (the 70th birthday of Stefan's mom! What else could he photograph that day ;-)
Location:
Capella Observatory at Amani Lodge, Kupferberg near Windhoek, Namibia
Filter:
FR03 + Astronomik
Typ II LRGB filters
Instrument:
Ganymed 60cm-Hypergraph in secondary focus, f=4800 mm
Seeing (FWHM):
2.0"
Photographer:
Rainer Sparenberg, Stefan Binnewies, Volker Robering
Remarks:
The jewel box near the southern cross contains about 50 stars mag 6...10. Even in binoculars this open cluster attracts attention by its "colored diamond" (spectral class M).
Bemerkungen:
Das Schmuckkästchen ganz in der Nähe des Kreuz des Südens enthält etwa 50 Sterne 6. bis 10. Größenklasse und fällt selbst im Feldstecher durch seinen "farbigen Diamanten" (Spektralklasse M) auf.
Back to the Open Clusters Overview / Zurück zur Offene-Sternhaufen-Übersichtsseite