[back] NGC 6872 et al. (Pavo Group) in Pavo [NED]
Higher resolved image / höher aufgelöstes Bild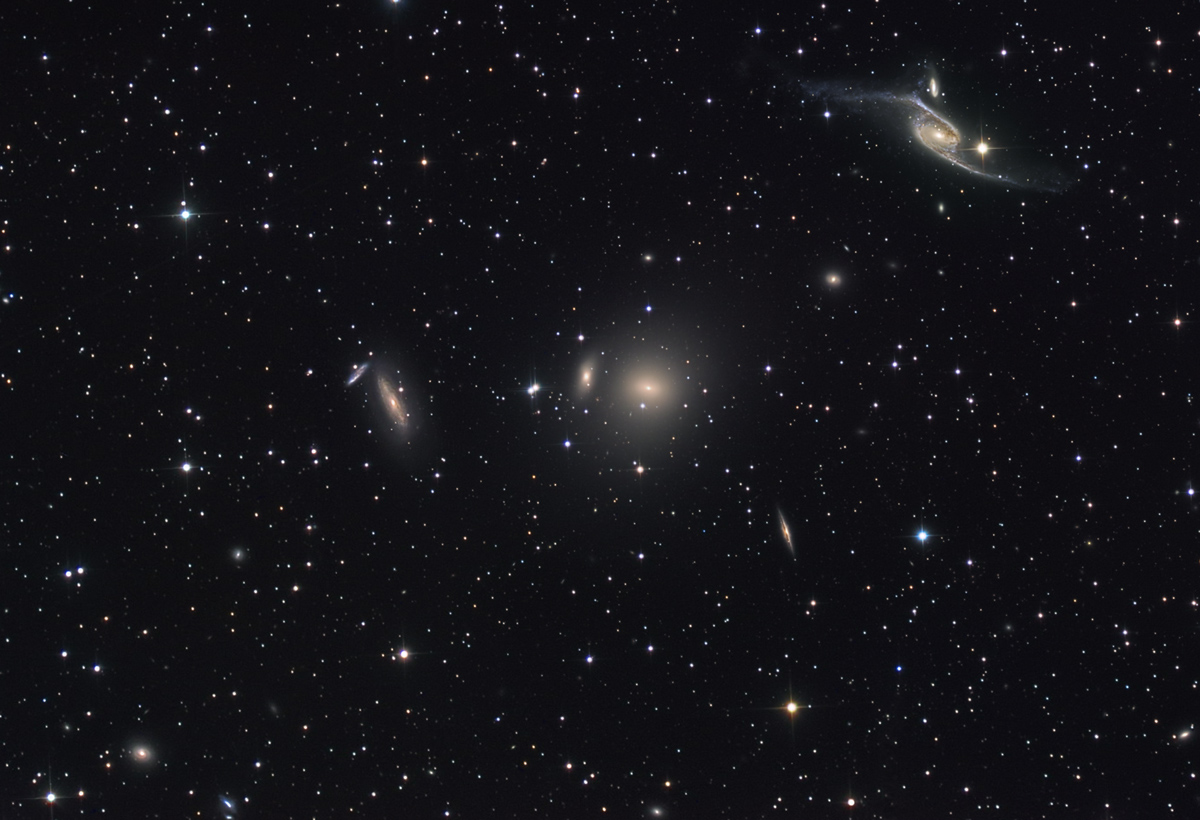 | | | | |
| --- | --- | --- | --- |
| Type/distance: NGC6872: SBb/P,~60Mpc/190MLy, NGC6876: E,~48Mpc/150MLy, NGC6877: E,~53Mpc/170MLy, NGC6880: SB0-a,~50Mpc/160MLy | | | |
(c) 2005 All astro photo images are copyrighted. They may not be used or reproduced without explicit written permission from the authors.
About this Image / Über dieses Bild
CCD:
ST10 XME
Image Type, Orientation:
LRGB Composite, North is up
Exposure time:
L: 11x600 sec. 1x1 bin, R,G,B: 4x300 sec. 2x2 bin
Exposure date:
May 11th, 2005
Location:
Capella Observatory at Amani Lodge, Kupferberg near Windhoek, Namibia
Filter:
FR03 + Astronomik
Typ II LRGB filters
Instrument:
Ganymed 60cm-Hypergraph in primary focus, f=1800 mm
Seeing (FWHM):
2.8"
Photographer:
Josef Pöpsel, Beate Behle
Remarks:

The most interesting and well known galaxy of this group is NGC 6872 in the upper right of the image, accompanied by IC 4970. Beside this a couple of galaxies cavort in the image, all having nearly the same distance to us (~160 MLy). All belong to the so called Pavo Group. The various dim galaxies mainly around NGC 6872 rather do not belong to the group. Their distance probably is about 10 times bigger.

The labels of the brightest galaxies in the image are shown at the end of this page.
Image processed with CCDSharp and DDP.

Bemerkungen:

Die sicher interessanteste und auch bekannteste Galaxie dieser Gruppe ist NGC 6872 oben rechts im Bild, die von IC 4970 begleitet wird. Außer diesen beiden tummeln sich aber noch diverse Galaxien im Bild, die alle etwa den gleichen Abstand zu uns haben (ca. 160 MLy) und zur Pavo-Gruppe gehören.

Die vielen schwachen Hintergrundgalaxien besonders um NGC 6872 gehören eher nicht zur Gruppe. Ihr Abstand dürfte etwa 10x größer sein.

Die Bezeichnungen der hellsten Galaxien des Bildes sind unten abgebildet.
Das Bild wurde mit Hilfe von CCDSharp und DDP bearbeitet.
Overview of the brighter galaxies visible in the image above: / Übersicht der helleren Galaxien, die auf dem Bild oben zu sehen sind: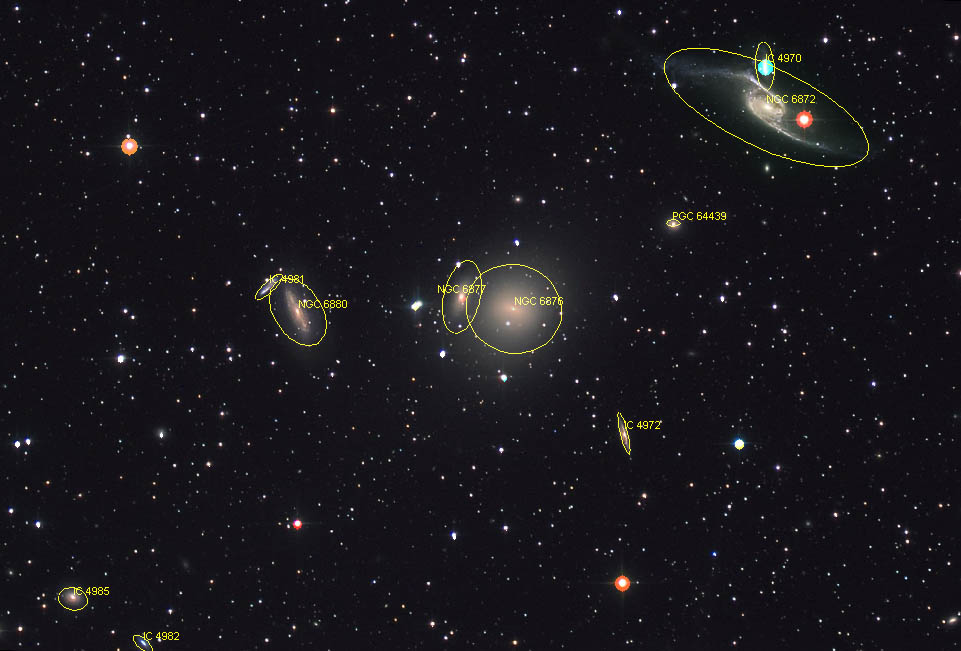 Back to the Galaxies' Overview / Zurück zur Galaxien-Übersichtsseite