[back] M85, NGC 4394 and IC 3292 in Coma Berenices[NED]
Higher resolved image / höher aufgelöstes Bild (2624 x 2212 Pixel)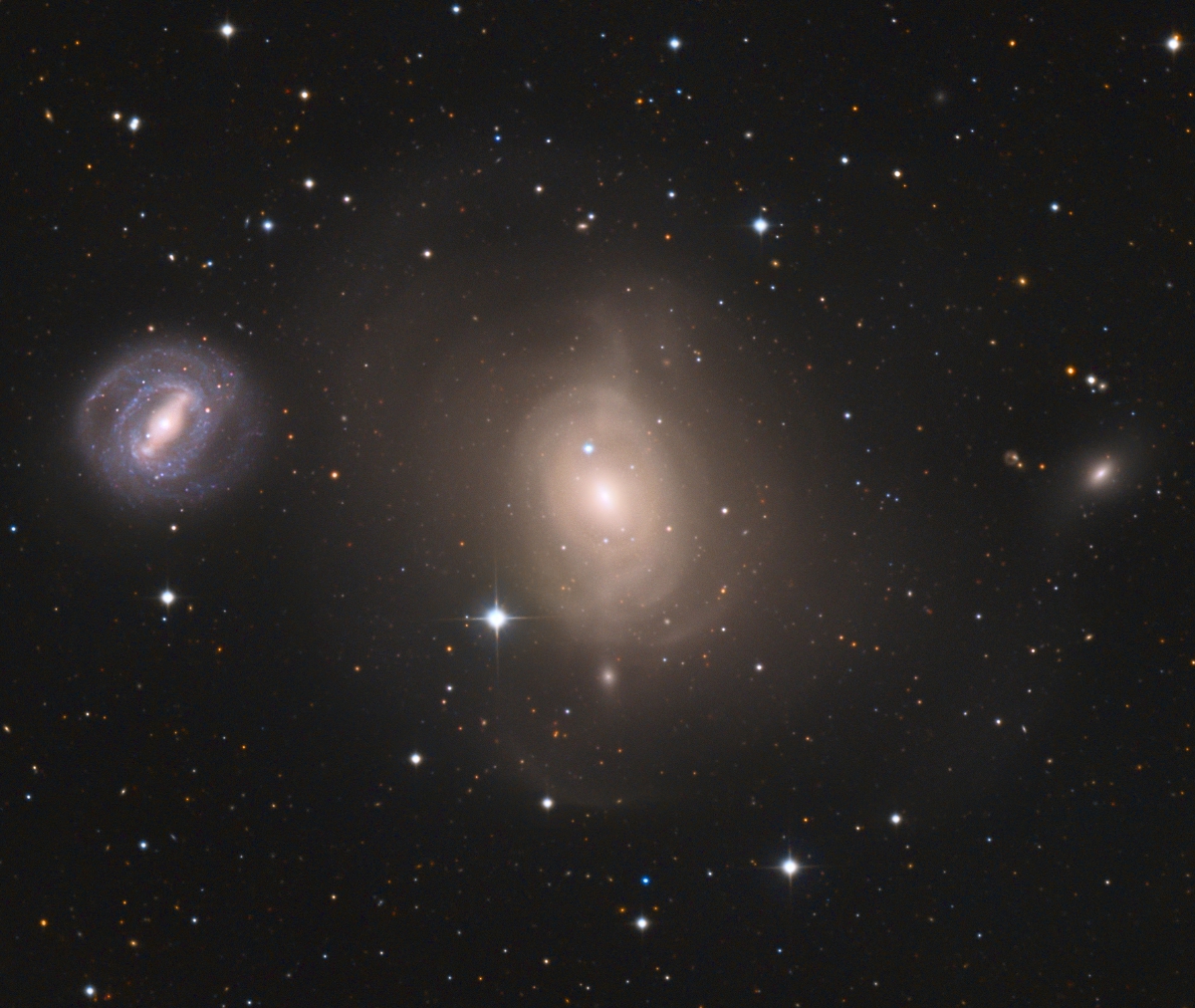 | | | | |
| --- | --- | --- | --- |
| (c) 2020 All astro photo images are copyrighted. They may not be used or reproduced without explicit written permission from the authors. | | | |
About this Image / Über dieses Bild
| | |
| --- | --- |
| CCD: | Moravian G3-16200 |
| Image Type, Orientation: | L-RGB Composite, North is at 12:00h |
| Exposure time: | L: 48x300s, R:21x300s, G: 20x300s, B: 24x300s, all 1x1 bin (9h 25min total) |
| | |
| --- | --- |
| Exposure date: | April 21st..25th 2020 |
| Location: | Capella Observatory at Eifel, Germany, remote-controlled from Cologne/Germany |
| Filter: | Baader LRGB Filter set |
| Instrument: | Ganymed 60cm-Hypergraph in primary focus (f=1815.9 mm) |
| Seeing (FWHM): | 2"...2.4" |
| Photographer: | Frank Sackenheim, Stefan Binnewies, Josef Pöpsel |
Remarks:

This deeply exposed image at f3 probably shows most galaxies in one image so far (May 2020). Especially in the highly resolved version, it is teeming with almost point-shaped galaxies. Various globular clusters are probably also depicted in the halo area of M85.

M85 is the biggest galaxie in the image, NGC 4394 is the one left and IC 3292 the one right to it.
An imge of the same galaxies, exposed 16 years earlier at f=600mm can be found here.

Bemerkungen:
Diese tief belichtete Aufnahme bei f3 zeigt vermutlich bis jetzt (Mai 2020) die meisten Galaxien in einem Bild. Gerade in der hoch aufgelösten Version wimmelt es nur von nahezu punktförmigen Galaxien. Im Halobereich von M85 sind vermutlich auch diverse Kugelsternhaufen abgebildet.
M85 ist die größte Galaxie im Bild, NGC 4394 die links und IC 3292 die rechts von ihr.
Eine Aufnahme der selben Galaxien, 16 Jahre vorher bei 600mm Brennweite aufgenommen, findet sich hier.
Back to the Galaxies' Overview / Zurück zur Galaxien-Übersichtsseite