[back] M51 (Whirlpool Galaxy, wide field) in Canes Venatici[NED]
Higher resolved image / höher aufgelöstes Bild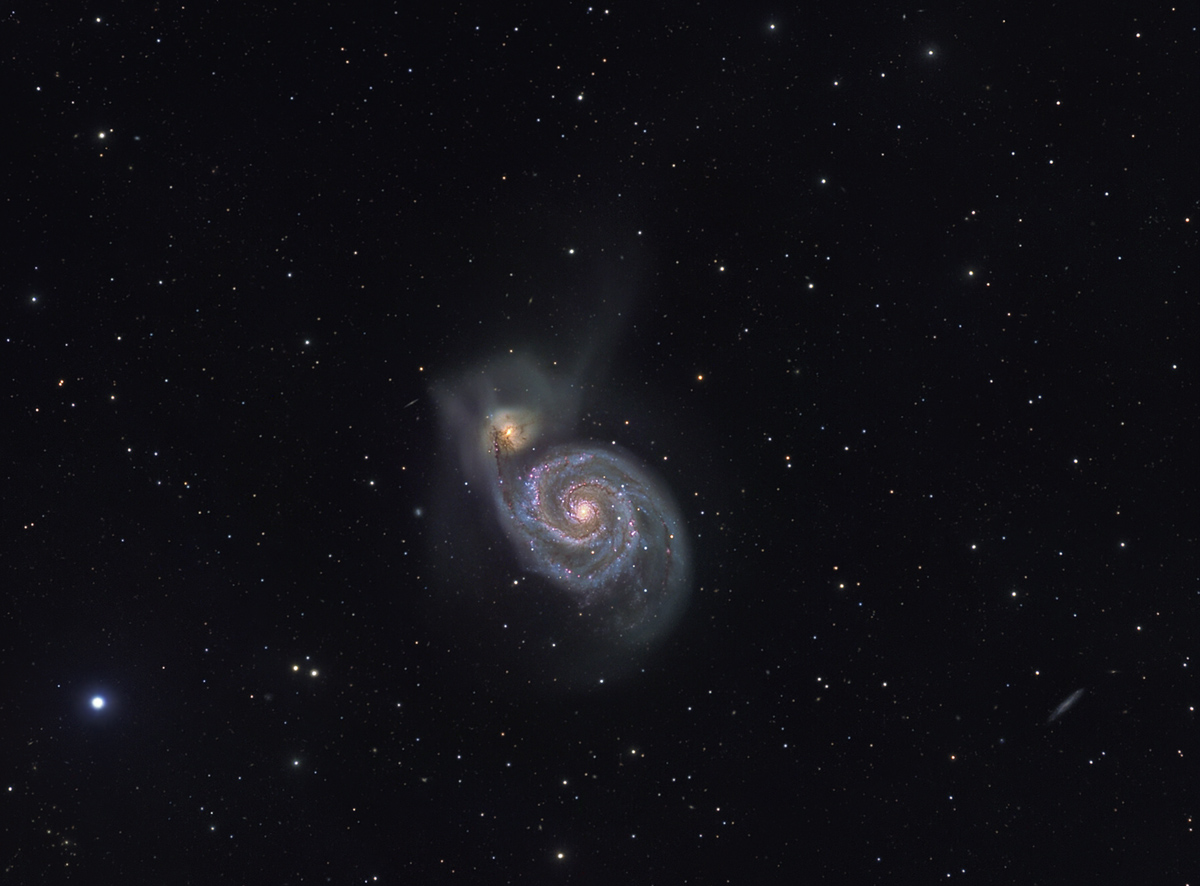 | | | | |
| --- | --- | --- | --- |
| Type/distance:Sbc, ~6.3Mpc/20MLy, | | | |
(c) 2005 All astro photo images are copyrighted. They may not be used or reproduced without explicit written permission from the authors.
About this Image / Über dieses Bild
CCD:

SBIG ST10 XME

Image Type, Orientation:
L-RGB Composite, North is at 11:00h
Exposure time:
L: 21x600 sec. 1x1 bin, R,G,B: 3x600 sec. 2x2 bin
Exposure date:
April 21st/22nd, 2005
Location:
Much, Bergisches Land, Germany (235m above MSL)
Filter:
FR03 + Astronomik
Typ II LRGB filters
Instrument:
Astro-Physics 105mm-Refractor Traveler with 1.4x tele converter, f=840mm (f8)
Photographer:
Stefan Binnewies
Remarks:

Problems during image processing caused by the non uniform background (moon light), non optimal flats and the strong outer shading of the tele converter.

A highly contrast enhanced inverted version, which shows a very faint material stream in north west directoion to the upper edge of the image can be found at the bottom of this page. We do not know a proof image of this phenomena for the moment

An image of M51 done with Ganymed in secondary focus (f=4940mm) can be found here.

DDP and unsharp masking were used for the central parts of the galaxies.

Bemerkungen:

Probleme bei der Bildbearbeitung wegen eines ungleichmäßigen Hintergrundes bei störendem Mondlicht, schlechten Flats und einer starken zentralen Aufhellung durch den Konverter.

Eine stark kontrastgesteigerte und invertierte Version, die einen sehr schwachen Materiearm (tidal tail?) nach Nordwesten in Richtung des oberen Bildrandes zeigt, befindet sich am Ende dieser Seite. Eine Bestätigungsaufnahme zu diesem Phänomen ist uns bisher noch nicht bekannt.
Ein Bild von M51, das mit Ganymed im Sekundärfokus gemacht wurde, finden Sie hier.
DDP und unscharfe Maskierung wurden für die Zentralgebiete der Galaxien benutzt.
A highly contrast enhanced inverted version / Eine stark kontrastgesteigerte und invertierte Version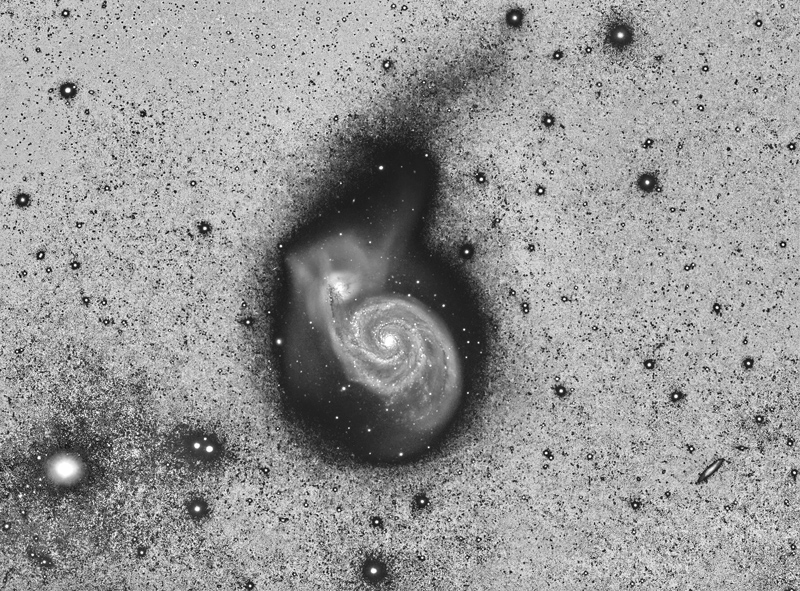 Back to the Galaxies' Overview / Zurück zur Galaxien-Übersichtsseite