[back] Sh2-132 (Lion Nebula) in Cepheus [NED]
Higher resolved image (North up)/ höher aufgelöstes Bild (Norden oben) (3533 x 4657 Pixel)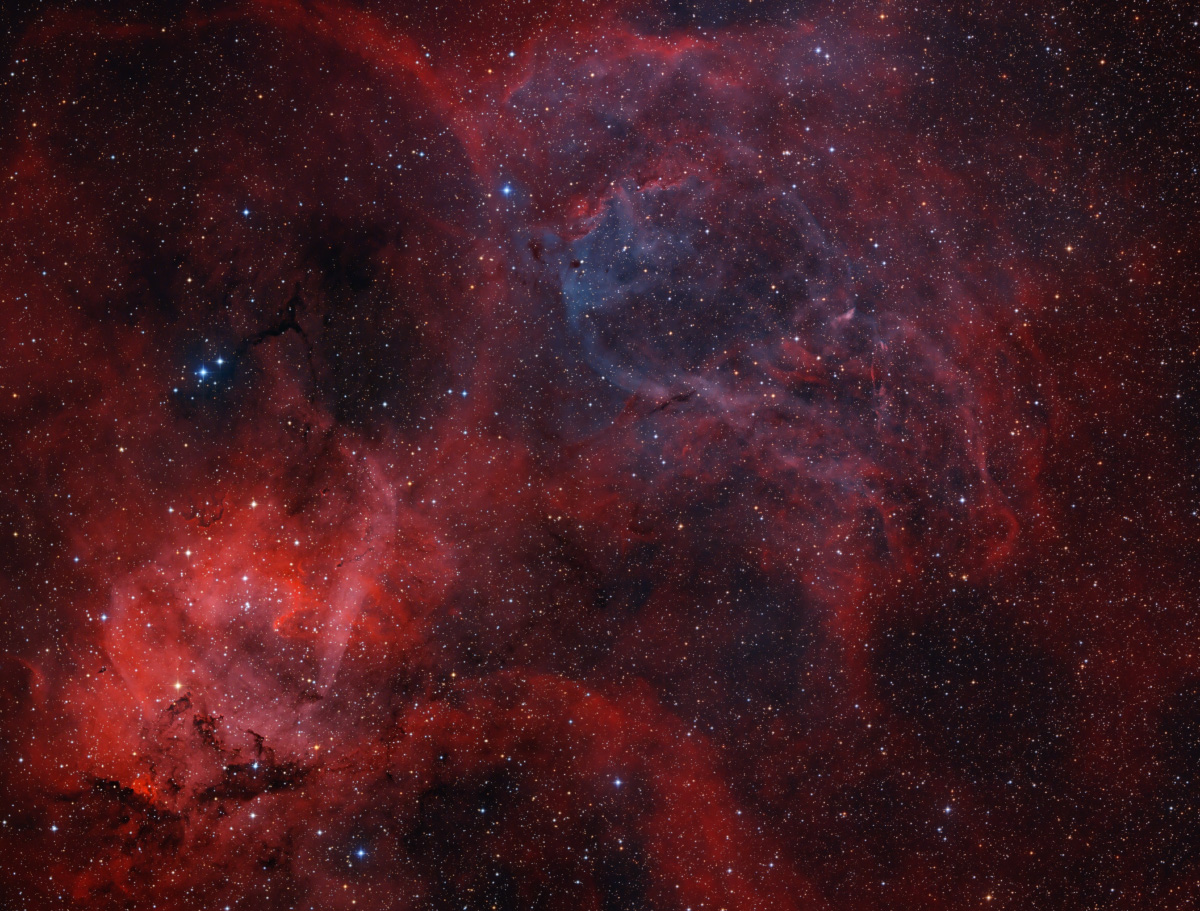 | | | | |
| --- | --- | --- | --- |
| (c) 2021 All astro photo images are copyrighted. They may not be used or reproduced without explicit written permission from the authors. | | | |
About this Image / Über dieses Bild
CCD:
ZWO ASI094MC Pro
Image Type, Orientation:
RGB-HaOIII-Composite, Two frame mosaic North is at 9:00 h (left)
The big version is shown with North up (12:00)
Exposure time:
Nothern (left) part: R,G,B: 21x300 sec., HaOIII: 48x300 sec., all 1x1 bin (5:45h total)
Southern (right) part: R,G,B: 13x300 sec., HaOIII: 49x300 sec., all 1x1 bin (5:10h total)
Exposure date:

September 5th..9th 2021

Location:
Capella Observatory at Eifel, Germany, remote-controlled from Bad Arolsen/Germany
Filter:
Internal RGB-Filter and STC Astro Duo-Narrowband Filter
Instrument:
Ganymed 60cm-Hypergraph in primary focus (f=1815.9 mm)
Photographer:
Josef Pöpsel, Frank Sackenheim, Stefan Binnewies
Remarks:

Sh2-132 is a weak emission nebula, which is mainly excited to glow by two Wolf-Rayet stars. WR 153ab (a multiple system) is responsible for the northern (left) red part of the image, the southern (right) blue regions are supplied by WR 152. More information on Sh2-132 e.g. here, here and here.
Noticeable in the southern part of the picture (right) is a "curl" (see image crop below), about which we did not find any information. If someone knows or finds out more about this structure, we would be happy if he or she contacts us.

Bemerkungen:

Sh2-132 ist ein recht schwacher Emissionsnebel, der im Wesentlichen durch zwei Wolf-Rayet-Sterne zum Leuchten angeregt wird. Für den nördlichen (linken) roten Teil des Bildes ist WR 153ab (ein Mehrfachsystem) zuständig, die südlichen (rechten) blauen Regionen werden von WR 152 versorgt. Nähere Informationen zu Sh2-132 zb. hier, hier und hier.
Auffällig im südlichen Bildteil (rechts) ist ein "Kringel" (siehe Bild-Ausschnitt unten), über den wir allerdings keinerlei Informationen gefunden haben. Wenn jemand etwas näheres über diese Struktur weiß oder herausfindet, würden wir uns freuen, wenn er oder sie mit uns Kontakt aufnimmt.
Higher resolved crop of the unknown "curl" / Höher aufgelößter Ausschnitt des unbekannten "Kringels"
(North is up!)
| | | | |
| --- | --- | --- | --- |
| (c) 2021 All astro photo images are copyrighted. They may not be used or reproduced without explicit written permission from the authors. | | | |
Back to the Diffuse Nebulae Overview / Zurück zur Diffuse-Nebel-Übersichtsseite