[back] IC 5070 (Pelikan Nebula) in Cygnus[NED]
Higher resolved image / höher aufgelöstes Bild (3416 x 2160 Pixel)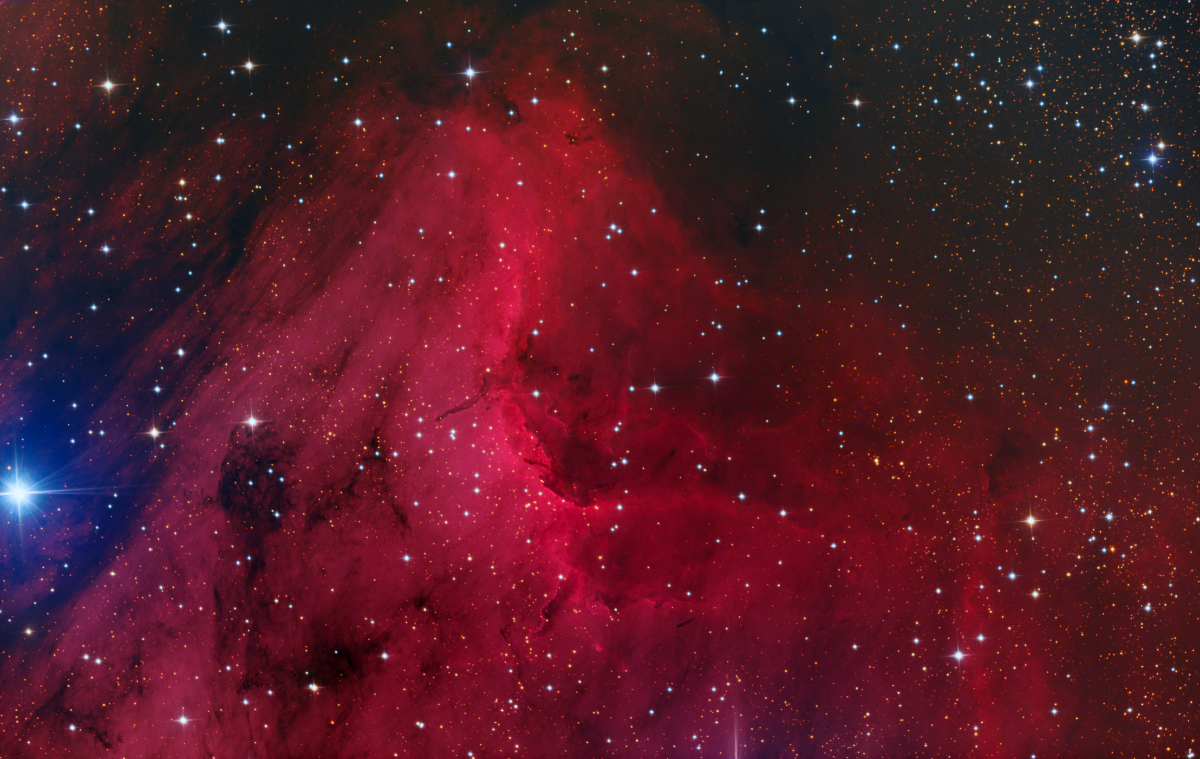 | | | | |
| --- | --- | --- | --- |
| (c) 2018 All astro photo images are copyrighted. They may not be used or reproduced without explicit written permission from the authors. | | | |
About this Image / Über dieses Bild
CCD:
SBIG STL-11000M
Image Type, Orientation:
L-(R+Ha)GB-Composite, North is at 11:55h
Exposure time:
L: 29x300 sec., Ha: 16x600 sec., R,G: 6x300 sec., B: 8x300 sec., all 1x1 bin
Exposure date:
June 13th/15th and August 2nd/17th, 2018
Location:
Capella Observatory at Eifel, Germany, remote-controlled from Cologne/Germany
Filter:
Baader 2" LRGB filter set for STL + Baader 13nm Ha filter
Instrument:
Ganymed 60cm-Hypergraph in primary focus (f=1815.9 mm)
Photographer:
Frank Sackenheim, Josef Pöpsel, Stefan Binnewies

Seeing (FWHM):

2.0"..2.9"

Remarks:

The image is cropped due to the fact, that the panels of the luminance channels (taken on two nights) did not overlap very well.
A secondary focus image of the center can be found here.

Bemerkungen:

Das Bild ist ein Ausschnitt des Bildfeldes der STL11000, da es einen deutlichen Versatz gab zwischen den Luminanzaufnahmen zweier Nächte.
Eine Sekundärfokus-Aufnahme der Bild-Mitte ist hier zu finden.
Back to the Diffuse Nebulae Overview / Zurück zur Diffuse-Nebel-Übersichtsseite