[back] NGC 6914 and vdB 132 in Cygnus [NED]
Higher resolved image / höher aufgelöstes Bild (2000 x1333 Pixel)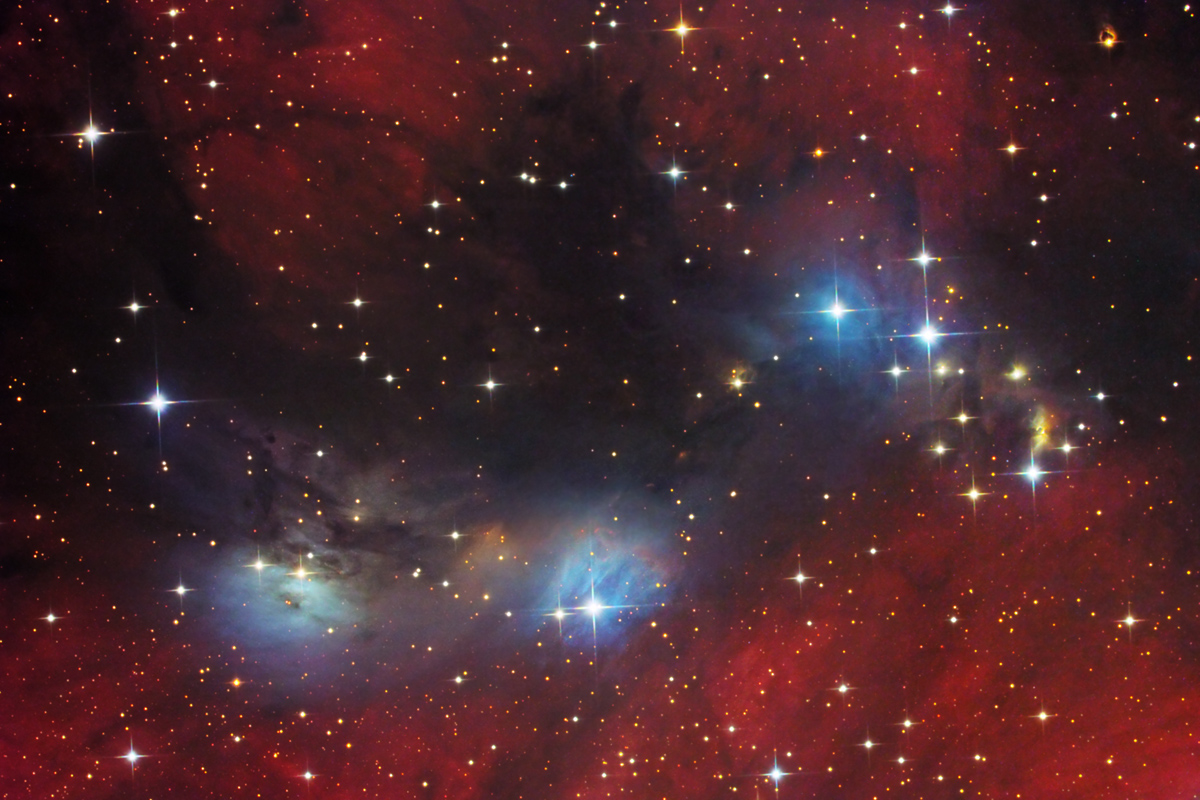 | | | | |
| --- | --- | --- | --- |
| (c) 2006 All astro photo images are copyrighted. They may not be used or reproduced without explicit written permission from the authors and Stefan Heutz. | | | |
About this Image / Über dieses Bild
CCD:
SBIG STL-11000M
Image Type, Orientation:
L-RGB Composite, North is at 8:45h
Exposure time:
L: 11x600 sec. 1x1 bin, R,G,B: 3x600 sec. 2x2 bin
Exposure date:
August 23rd, 2006, starting at 20:57 UT
Location:
Skinakas Observatory at Crete, Greece
Filter:
SBIG 2" LRGB filter set for STL
Instrument:
Ganymed 60cm-Hypergraph in secondary focus (f=4938.3 mm)
Seeing (FWHM):
1.1"
Photographer:
Stefan Binnewies, Josef Pöpsel, Rainer Sparenberg, image editing by Stefan Heutz.

Remarks:

NGC 6194 is the blue reflection nebula left, vdB 132 the one in the middle and the right one of the three reflection nebulae is vdB 131. The colors of this extraordinary attractive region remind on the Antares region - but in contrast this region has only a ~1/500 of the visual size of the Antares region. Some remarks on the "boomerang-star" in the upper right of the image can be found below.

LR-Sharpening and DDP were used.

Bemerkungen:

NGC 6914 ist der blaue Reflexionsnebel unten links, vdB 132 der in der Mitte unten. Der obere der drei Reflexionsnebel ist vdB 131. Diese außerordentlich attraktive Region erinnert in ihrer Farbigkeit ein wenig an die Antares-Region - sie bedeckt allerdings nur etwa 1/500 der Fläche am Himmel. Bemerkungen zu dem "Bumerang-Stern" in der rechten oberen Ecke des Bildes siehe unten.

LR-Schärfung und DDP wurden benutzt.
(c) 2006 All astro photo images are copyrighted. They may not be used or reproduced without

explicit written permission from the authors and Stefan Heutz.

The catalog name of the peculiar star at the upper right of the image is V1515 Cyg. It is a so called FU Orionis object. This "FUors" are pre-main sequence stars which display an extreme change in magnitude and spectral type. One example is the star V1057 Cyg, which became 6 magnitudes brighter and went from spectral type dKe to F supergiant. The current model associates the FU Orionis flare with abrupt mass transfer from an accretion disc onto a young, low mass T Tauri star. See also Wikipedia-Entry and here.
The image to the left shows a 200% version of the area around V1515 Cyg. The size of the area is about 2' x 1.5'.

Der Katalog-Name des ungewöhnlichen Sterns am oberen rechten Bildrand ist V1515 Cyg. Er ist ein so genanntes FU Orionis Objekt. Diese "FUors" sind Vor-Hauptreihensterne, die einen extremen Wechsel in Helligkeit und Spektral-Typ zeigen. Ein anderes Beispiel ist V1057 Cyg, der in der Vergangenheit 6 Mag heller wurde und vom Spektraltyp dKe zu einem F Überriesen wechselte. Die aktuelle Theorie verknüpt die FU Orionis Ausbrüche mit einem plötzlichen Massetransfer von einer Akkretions-Scheibe auf einen jungen, massearmen T Tauri Stern. Siehe auch Wikipedia-Eintrag und hier.

Das Bild links zeigt eine 200% Version der Gegend um V1515 Cyg. Die Größe des Ausschnittes beträgt etwa 2' x 1.5'.
Back to the Diffuse Nebulae Overview / Zurück zur Diffuse-Nebel-Übersichtsseite