[back] IC2944 with Thackeray globules in Centaurus [NED]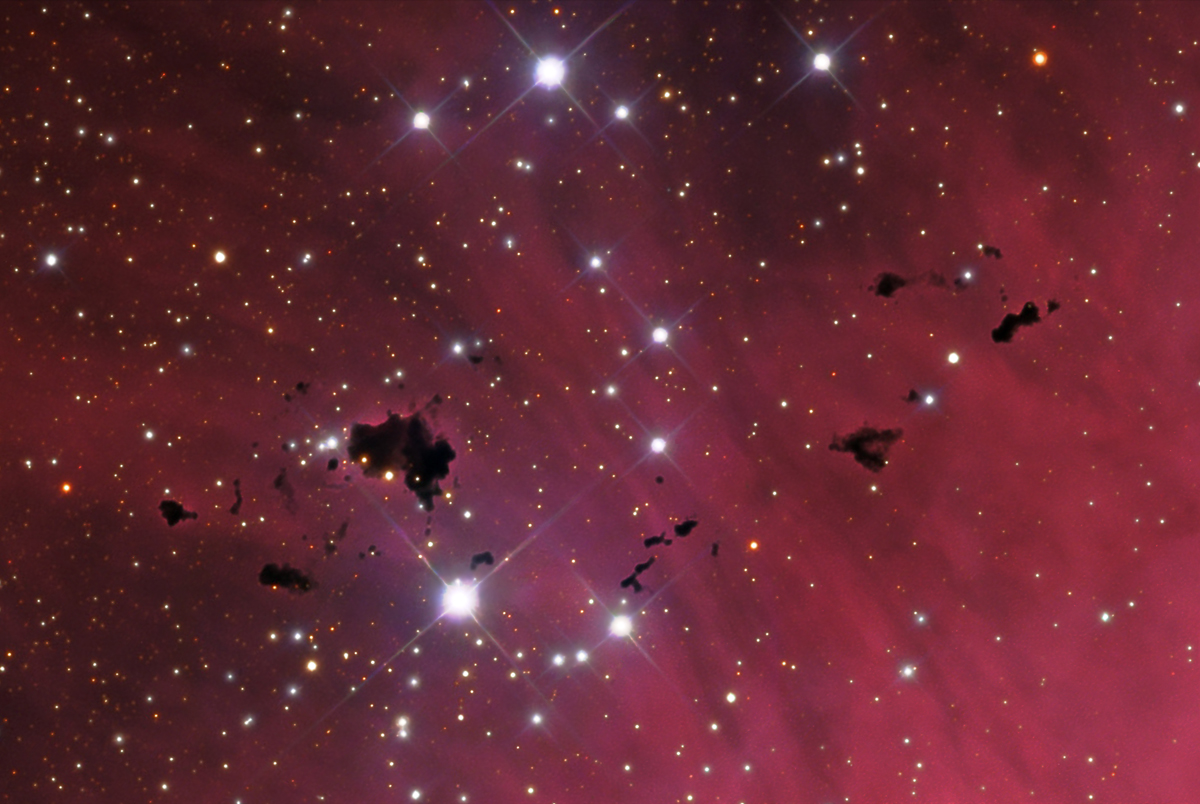 | | | | |
| --- | --- | --- | --- |
| (c) 2004 All astro photo images are copyrighted. They may not be used or reproduced without explicit written permission from the authors. | | | |
About this Image / Über dieses Bild
CCD:
ST10 XME
Image Type, Orientation:
LRGB Composite, North is at 1:30
Exposure time:
L: 12x300 sec. 1x1 bin, R,G,B: 6x300 sec. 2x2 bin
Exposure date:
May, 14th, 2004
Location:
Capella Observatory at Amani Lodge, Kupferberg near Windhoek, Namibia
Filter:
FR03 + Astronomik
Typ II LRGB filters
Instrument:
Ganymed 60cm-Hypergraph in secondary focus, f=4800 mm
Seeing (FWHM):
1.8"
Photographer:
Rainer Sparenberg, Stefan Binnewies, Volker Robering
Remarks:
The globules in the center of IC 2944 were named after their discoverer, the south-african astronomer A.D. Thackeray. They are perfect examples for the interaction between intensive UV-radiation from hot OB-stars with high luminosity and the surrounding dust and gas of a large hydrogen/molecule cloud.
The bluish haze in this image doesn't have a cosmic origin, but are reflexes from these OB-stars, caused by earthbound dust on the corrector lenses....
Bemerkungen:
Die Globulen im Zentrum von IC 2944 wurden nach deren Entdecker, dem südafrikanischen Astronomen A.D. Thackeray benannt. Sie sind Musterbeispiele der Wechselwirkung intensiver UV-Strahlung heißer, leuchtkräftiger OB-Sterne mit dem Staub und Gas einer großen Molekül- und Wasserstoffwolke.
Die bläulichen Schleier im Bild sind nicht kosmischen Ursprungs, sondern Reflexe um eben diese hellen OB-Sterne, hervorgerufen durch Staub (wieder nicht kosmischer Natur) auf dem Korrektor.
Back to the Diffuse Nebulae Overview / Zurück zur Diffuse-Nebel-Übersichtsseite