[back] IC2220 (Toby Jug Nebula) in Carina [NED]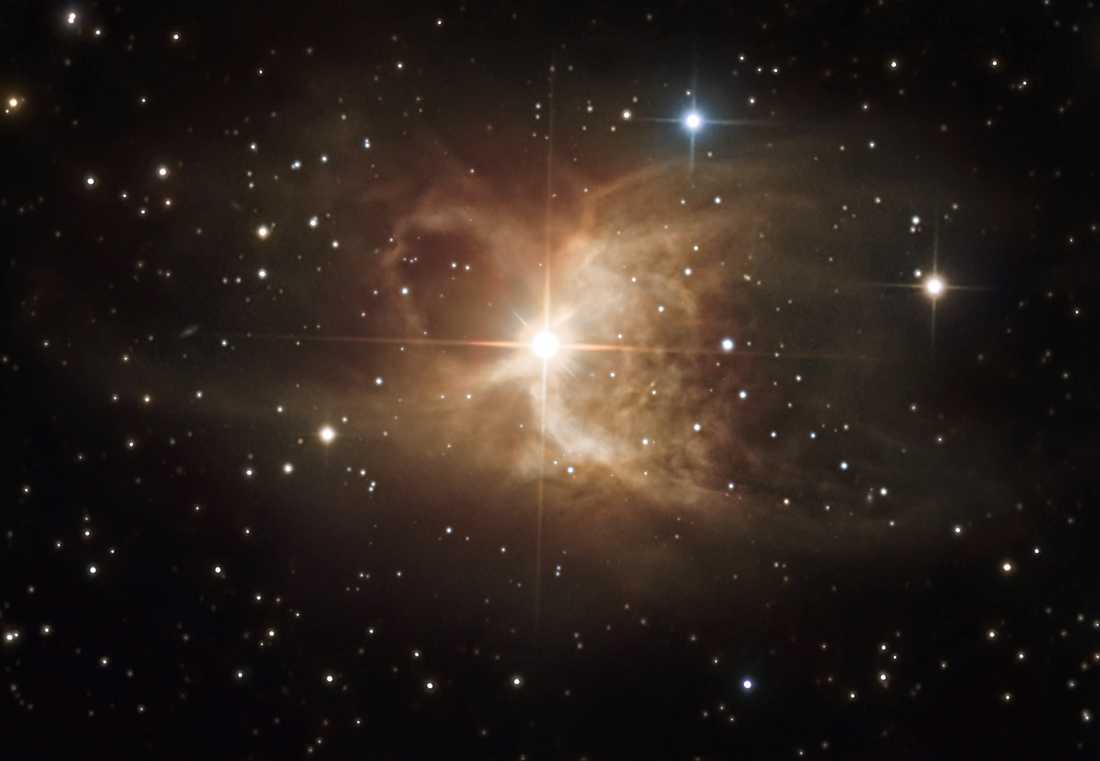 | | | | |
| --- | --- | --- | --- |
| (c) 2004 All astro photo images are copyrighted. They may not be used or reproduced without explicit written permission from the authors. | | | |
About this Image / Über dieses Bild
CCD:
ST10 XME
Image Type, Orientation:
LRGB Composite, North is at 0:10
Exposure time:
L: 10x30 sec. 1x1 bin, R,G,B: 10x10 sec. 2x2 bin
Exposure date:
May, 11th, 2004
Location:
Capella Observatory at Amani Lodge, Kupferberg near Windhoek, Namibia
Filter:
FR03 + Astronomik
Typ II LRGB filters
Instrument:
Ganymed 60cm-Hypergraph in secondary focus, f=4800 mm
Seeing (FWHM):
2"
Photographer:
Rainer Sparenberg, Stefan Binnewies, Volker Robering
Remarks:
This object is difficult to photograph because of its bright central star (variable, between 6 and 7 mag). Exposures taken too long result in massively blooming, too short exposures result in a bad signal/noice ratio. We tried to find a way in between, but we are not completely satisfied with the result.
Bemerkungen:
Das Objekt ist wegen des hellen Zentralsterns (variable Helligkeit, zwischen 6-7mag) schwierig aufzunehmen.
Zu lange Einzelbelichtungen werden durch massives Blooming gestört, zu kurze geben ein mangelhaftes Signal/Rausch-Verhältnis.Wir sind den Mittelweg gegangen, letztendlich aber mit diesem Ergebnis nicht wirklich zufrieden.
Back to the Diffuse Nebulae Overview / Zurück zur Diffuse-Nebel-Übersichtsseite