[back] ESO 172-07 (Boomerang Nebula) in Centaurus [NED]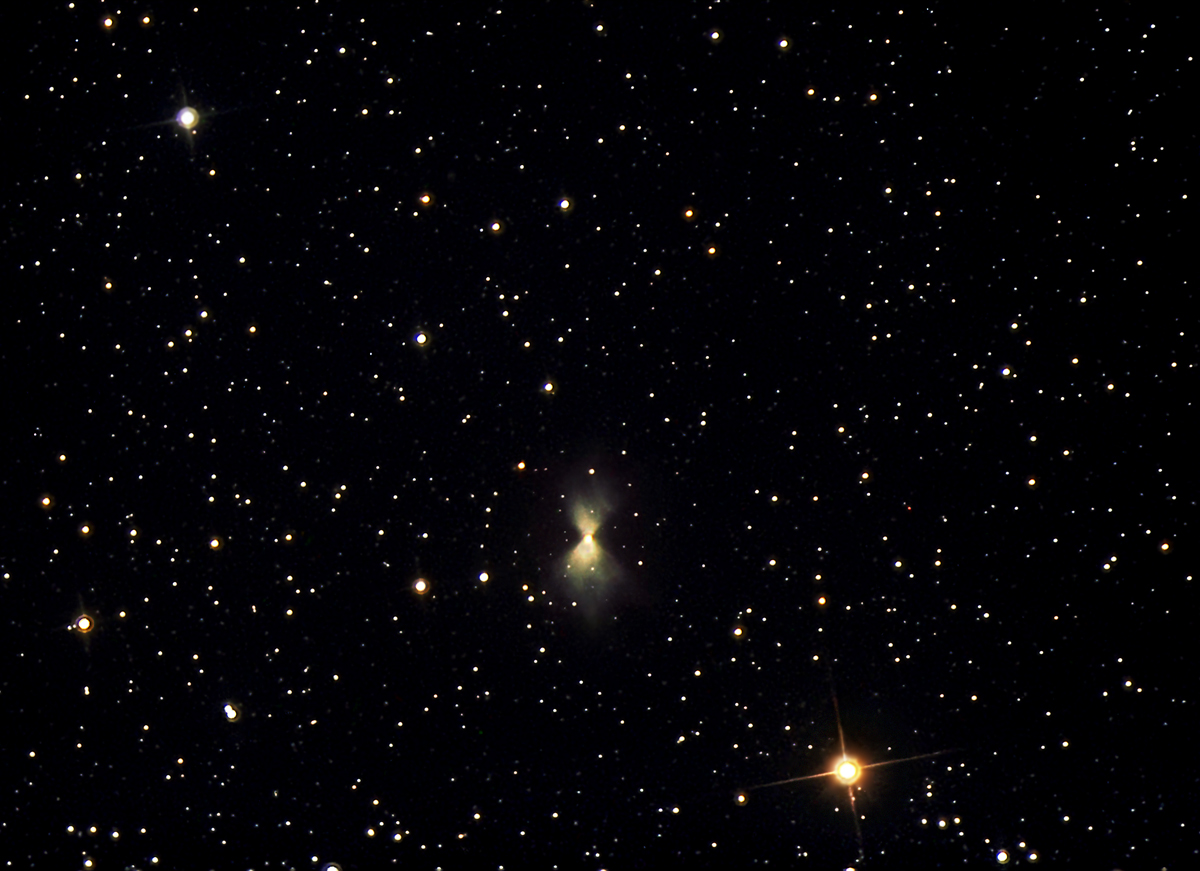 | | | | |
| --- | --- | --- | --- |
| (c) 2003 All astro photo images are copyrighted. They may not be used or reproduced without explicit written permission from the authors. | | | |
About this Image / Über dieses Bild
CCD:

ST10 XME

Image Type, Orientation:

LRGB Composite, North is nearly up

Exposure time:

L: 4x300 sec. 1x1 bin, R,G,B: 5x120 sec. 2x2 bin

Exposure date:

March 26th, 2004

Location:

Capella Observatory at Amani Lodge, Kupferberg near Windhoek, Namibia

Filter:

FR03 + Astronomik
Typ II LRGB filters

Instrument:

Ganymed 60cm-Hypergraph in secondary focus, f=4800 mm

Seeing (FWHM):

1.5"

Photographer:

Dietmar Böcker, Ernst von Voigt

Remarks:

Astronomers state that the Boomerang Nebula may be the "coldest object in the Universe". The nebula is located in the constellation of Centaurus, about 5000 light years away from Earth. It is a cloud of dust and gas that is expanding out from an old star, the core of which is collapsing inwards as it becomes a white dwarf. As the gas expands, it has cooled down to a temperature of just 1 Kelvin. As you can see, the Nebula is very small, only about 1.5 x 1 arc min.

Bemerkungen:

Nach Aussage einiger Astronomen könnte der Bumerang-Nebel "das kälteste Objekt im Universum" sein. Der Nebel ist im Centaurus zu finden, etwa 5000 Lichtjahre von der Erde. Er besteht aus einer Staub- und Gaswolke, die expandiert und dadurch auf ca. 1 Kelvin abkühlt. In der Mitte des Nebels befindet sich ein alter Stern, der kollabiert und sich zu einem weißen Zwerg entwickelt. Wie man sieht, ist der Nebel sehr klein, gerade einmal 1,5 x 1 Bogenminuten.
Back to the Diffuse Nebulae Overview / Zurück zur Diffuse-Nebel-Übersichtsseite